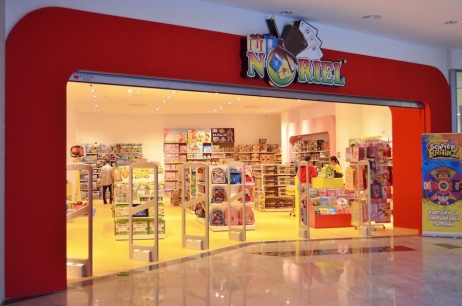 Source: www.noriel.ro
"Noriel" group, the largest toys and games retailer in Romania was purchased by the Polish private equity fund Enterprise Investors, one of the biggest private equity funds in Central and Eastern Europe that gathers 8 funds with a total capital of over 2 billion EUR.
Axxess Capital (minority shareholder) and brothers Cristian and George Constantinescu (founders and majority shareholders) closed the deal with Enterprise Investors, that also owns the supermarket chains "Profi", for companies Noriel Impex, Toys and Games Industry, and Intertoy Zone. The sale purchase agreement was signed yesterday and the transaction will be closed subject to approval by the Competition Council and the fulfilment of other conditions precedent.
2015 was the best year for the company so far, with a growth of 30%, reaching 30 million EUR. At the beginning of the current year, Cristian Constantinescu was announcing the second best year for Noriel. Last year, Noriel opened six MegaStores (700-1000 sqm), and for 2016, it estimates something similar. Until 2020, retailer wants to double the number of stores in order to reach 100 units, that meaning tripling its revenue towards 90 million EUR.
The Retailer is present on the market since 1995. Last year, it has entered the fashion category for children, their products being fabricated locally, and out of the country, and it also developed an infant care segment. Over a third of the toys sold carry their own brand, and they are also present in the biggest hypermarket chains.
"After finalizing the transaction, we intend to repeat the successful experience from Profi. We will strengthen the management team with experts in the field, and we will support developing the Noriel store chain in the country so that we doble their number in the following years", confessed Serban Roman, Country Director at Enterprise Investors.
RTPR Allen & Overy has advised the private equity fund Enterprise Investors in relation to this acquisition.
By Mihaela Constantin