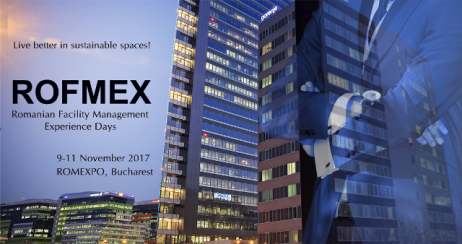 ROFMA – The Romanian Facility Management Association – is organizing ROFMEX – Romanian Facility Management Experience Days on 9-11 November, at Romexpo Exhibition Center, Bucharest.
ROFMEX is the only event that offers, at a national level, promotion, education and know-how exchange opportunities to facility management industry, focused on operating and maintaining the built environment, an industry that includes only in Romania over 6,500 active companies with nearly 130,000 employees and a turnover of 1.4 billion euros. Owing to its original concept, ROFMEX is the only event in Central and Eastern Europe that provides a broad perspective of a wide range of state-of-the-art products and services offered to the facility management sector.
For three days, FM industry representatives and support services – companies, professionals and authorities – will be together in an event that integrates: a specialized exhibition, an international conference, ROFMA certified training courses and Experience Area – a showroom as well as a demonstration program and info tours to representative buildings in Bucharest, where participants see, touch and examine top notch equipment, products and solutions in facility management.
The exhibition, the first of the four pillars of ROFMEX 2017, is the most complex and effective marketing tool for manufacturers, importers and distributors of equipment, products, technologies, FM solutions and support services.
Peter Ankerstjerne, Vice President ISS, Ian Ellison, Co-founder, 3edges Workplace and Associate Lecturer, Sheffield Hallam University, Anne Lennox-Martin, General Manager FMP 360 Ltd, Alexander Redlein, professor of Facility Management, Vienna University of Technology, and Andras Bajai, CEO, ThermoControl FM Kft will deliver their keynote speeches at the 2 days International Conference.
ROFMEX is a trend generator event, with a strong influence on the regional business environment and, definitely, an opportunity to promote your business to corporate facility managers that operate annual budgets of several million euros, CEOs and top managers of Romanian companies providing FM services, other professionals in FM and support services, engineers, technical officials, real estate owners and developers, architects, designers, top purchasing managers and public authorities.
"We will facilitate, through this unique event, access to specific information, conferences and trainings lectured by national and international experts, as well as the connection and know-how exchange with reputable international professionals", said Cristian Vasiliu, Managing Director ROFMA.