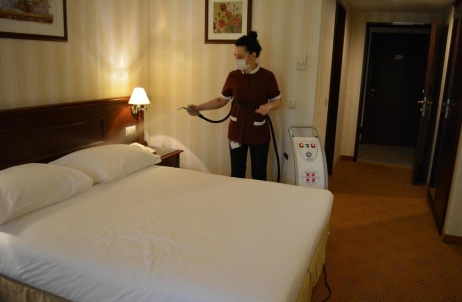 Bureau Veritas Romania certified the Ramada Hotel & Suites by Wyndham Bucharest North in accordance with the best practices for the prevention of infection with the new Coronavirus. Ramada Hotel & Suites by Wyndham Bucharest North thus becomes the first hotel in Romania belonging to the international Ramada chain, which obtains the "Safe Guard" certification.
The label "Safe Guard" is awarded after an audit that verifies that safety standards have been met in the audited locations and that appropriate hygiene protocols, compliance with legal rules and compliance with best practices in the prevention of Covid-19 are implemented.
Customers around the world can confirm, on a dedicated website, before booking their next stay, that a hotel or restaurant has been certified by Bureau Veritas and labeled "Safe Guard".
"The Safe Guard checklist covers both accommodation and catering and establishes the level of compliance with health measures voluntarily applicable to all hotels and restaurants, says Claudia Stancu, Manager of the Certification Department of Bureau Veritas Romania. Thus, we have the capacity to meet the new expectations of the people in terms of health and safety in tourism and to contribute to the confident reopening of hotels and restaurants in Romania. "
"Since the outbreak of the Covid-19 epidemic, as part of our commitment to the health, safety and security of our guests, employees and partners, we have implemented a series of prevention and protection measures in accordance with the norms imposed by the World Health Organization (WHO), as well as by the central and local authorities in Romania. We are delighted that through our partnership with Bureau Veritas, our efforts have been certified by a world-renowned institution for its rigorous audits. During this period, our team makes every effort to maintain the optimal balance between safety and comfort that we want to offer our guests " added Flavia Sandu, General Manager of Ramada Hotel & Suites by Wyndham Bucharest North.