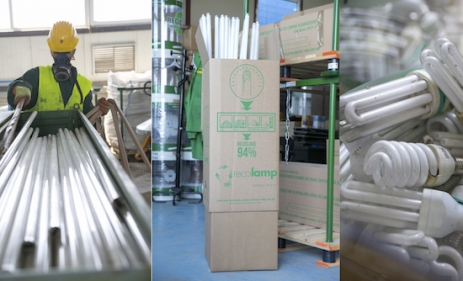 Source: www.recolamp.ro
Recolamp, a non-profit organization founded by General Electric, Osram and Philips Romania in 2007, collected and recycled 658 tons of lighting equipment waste in 2016.
Last year, the association represented 187 Romanian producers of whom it took over the legal responsibility on the management of waste from electrical and electronic equipment put on the market - Category 5 - lighting equipment, according to the classification of GEO 5/2015. Thus, on behalf of its participants, Recolamp managed to fulfill legal the collection target of 40% of the average producers' sales in the last 3 years.
"Every month of 2016, on average, we have colected waste lighting equipment in 450 collection points. This frequency is provided by the partnership we have with over 11,600 waste generators across the country - office buildings, industrial sites, shops, hospitals, municipalities, companies dealing with street lighting and so on. We proposed and managed to be in constant contact with these collection points. We call them, visit them or even hailing them at the free phone number that we provided. We interact with each location at least twice each year because just being there for them and reminding them constantly that waste lighting equipment should be collected selectively for recycling, we managed to retain our network. When the containers are full of waste, within 10 days, a licensed collector picks them and gives in return new containers to be used further, "said Béla Kovács, CEO of Recolamp.
Any public or private institution in Romania may request customized containers and can benefit from the national collection infrastructure that has developed Recolamp Association. Collaboration with Recolamp is free, ensuring the organization to take the waste from the minimum quantity of 20 kilograms or 100 pieces of light bulbs and / or fluorescent and at least 50 kilograms, where luminaries.
"For 2017, the Romanian producers of electrical and electronic equipment has been established by GEO 5/2015 a target of 45 percent. For Recolamp, this translates into the way: this year we must ensure the collection and recycling of 875 tons of lighting equipment waste, which means a 33% increase in the performance of the association. It is a very ambitious target, a real challenge for us, but we are confident that we will manage to accomplish, especially since in 10 years of activity in Romania we have developed a system based on a healthy and sustainable business model. In addition, this year we will focus on broadening the collection infrastructure by increasing the number of strategic partnerships with public lighting companies, municipalities, but also with local authorities. We rely on our professional approach in which participants have supported us and we trust that we can provide the prerequisites for achieving the target set for 2017, "added Kovacs.
"The most important legislative change this year is due to the fact that all producers of electrical and electronic equipment must report to the Environment Fund Administration figures on their sales in Romania. In case of incorrect or incomplete reporting, the lighting equipment manufacturer faces a penalty of 20 lei / kilogram. We hope this measure will contribute to the empowerment of all stakeholders and to expose the gray market. Also, since the first of January 2018, producers who do not meet the collection target risk the payment to the Environment Fund Administration of a contribution in amount of 4 lei / kg for all categories of waste electrical equipment, except the category of lighting equipment, where fee is 20 lei / kilogram uncollected. In these circumstances, we advise all producers in Romania to closely monitor the performance of the organizations to whom they have transferred their obligations, " said Roxana Sunica, marketing director of Recolamp.