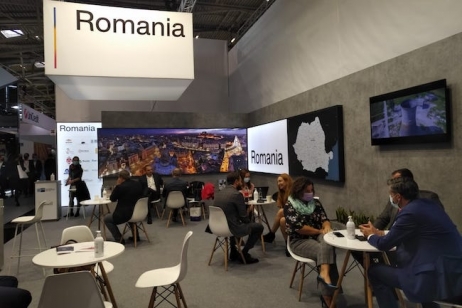 For the ninth time in a row, AHK Romania organized Romania's joint stand at EXPO REAL Munich. Three days full of fairs, an intense program of meetings and individual discussions at each stand. All the decision-makers in the real estate sector met between 11 and 13 October 2021 at EXPO REAL München, the fair once again managing to be the main meeting point of the industry. Over 19,200 participants from 52 countries came to EXPO REAL in Munich.
The 1,198 exhibitors come from 29 countries. Apart from Germany, the top ten exhibiting countries were: Austria, the Netherlands, Poland, Switzerland, Portugal, Romania, Spain, France, Serbia and Italy. "It was an atmosphere of trust that was felt everywhere in the exhibition halls. 1,198 exhibitors and over 19,200 participants took full advantage of the three days of EXPO REAL to start future projects, gather information and maintain contacts, "explains Klaus Dittrich, CEO of Messe München." Compared to the years "A record before the Corona pandemic, the fair was naturally smaller. But the new start was a success and EXPO REAL once again proved to be the most important real estate fair in Europe," Dittrich concluded.
The Romanian stand included representatives of local authorities looking for investors interested in locations in our country as well as those of the private sector, having as basic activities the development of industrial parks, integrated logistics services, design and architecture services, civil construction and industrial. The stand consisted of AFI Europe, Alma Consulting SRL, Buzau, Ceetrus, Iasi Siret Industrial and Technological Park, Olympian Parks, Resita, Rec Partners, Hotspot Workhub, Sagului Logistic Center, Speedwell, WDP Development Romania SRL. Also present were the two profile associations: the Romanian Association of Real Estate Investors and Bucharest Real Estate Club.
The Romanian pavilion was very well positioned in the first of the five halls of the exhibition, and the projects in our country enjoyed an increased interest. The participants of the Romanian joint stand had permanent meetings during the three days of the fair.