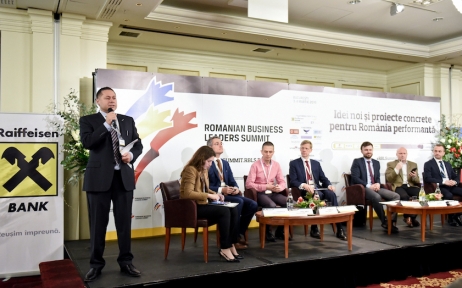 Source: www.rbls.ro
Romania could become one of the best places for entrepreneurship in Europe but Romanian entrepreneurs with vision, planning on extending their opperations to regional level do not receive institutional support, said Bogdan Ion, Country Managing Partner of EY in the opening session of the Romanian Business Leaders Summit. He gave the example of Mircea Tudor, whose innovation for plane scanner "is now promoted by the Swiss government and receives tax breaks."
Not only that entrepreneurs do not receive this support, but they have to overcome obstacles such as bureaucracy and corruption added Iulian Stanciu, General Manager at eMag. "Since corruption is the main barrier for entrepreneurs, our number one goal should be: zero corruption. Then education. "
In the next 12 months, 22 percent of young people aged 18-24 years is planning to start a business, show results of a study conducted by GfK Romania and Romanian Business Leaders.
Mihai Marcu, President of RBL said at the opening of the summit: "Romania needs more local companies to create value. Therefore, Romanian Business Leaders attracts a community of leaders and companies that not only debating how to produce value, but they already do. RBL means projects ".
This edition of the Romanian Business Leaders Summit explores how to transform Romania into a better place for entrepreneurs. How and where can be created conditions for innovation, educate a generation of people and encourage companies that produce value to develop.
Romanian Business Leaders Foundation Leaders is an association that aims to develop a platform for social action and involvement of private sector leaders. The ultimate goal is for Romania to become a better country for doing business responsibly. The expanding sommunity of Romanian Business Leaders includes over 400 entrepreneurs and heads of companies in Romania working voluntarily in concrete projects they generate in education, entrepreneurial culture and good governance.