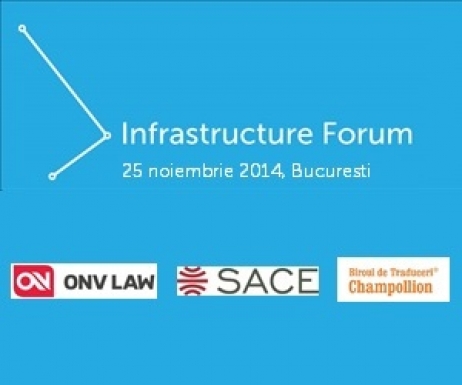 BusinessMark announces the organization of "Infrastructure Forum", an event that will take place on the 25th of November, in Bucharest, at Howard Johnson Grand Plaza.
The event aims to debate topics concerning the development strategy of Romanian infrastructure – highway network, railroad infrastructure rehabilitation and development, and the status of major infrastructure projects on a national level, for Bucharest and the main cities in Romania.
It will examine the funding sources for infrastructure projects: European funds, Public-Private Partnership and bank loans and will also discuss the re-launch strategies for transport and railway industry in Romania – passenger and freight; solutions for improving navigation on the Danube and developing intermodal capability in each harbor; maritime transportation – context, development, container shipping market; public transport network – in Bucharest and Romanian major cities; project status for Bucharest Metro Line 5 and perspectives for Metro Line 6; as well as the development perspectives for Romanian airport infrastructure.
The event will bring together representatives of: the Ministry of Transport, CNADNR, the most important authorities and organizations in the industry, Romanian airports, industry employers' associations, developers of infrastructure projects, construction companies, logistics companies, airlines, equipment suppliers, dispatch companies, distribution companies, energy providers, insurance companies, banks, retailers, consulting companies, and law firms.
The speakers' list includes:
Narcis Ștefan Neaga,

Director General, National Company of Motorways and National Roads in Romania – CNADNR

Catalin Homor,

Director, Investments and Public Procurement, Metrorex

Monica Patrichi,

Superior Counselor, Naval Transport, Ministry of Transport

Alina Bilan

,

Partner, Infrastructure, P

ublic Procurement

, C

oncessions

,

PPP

Coordin

a

tor, ONV LAW

Mihai Petre,

Senior Manager, Customs & Global Trade, Deloitte

România

Roxana Gherman,

Senior Analyst, Bucharest Office – Central and Eastern Europe, SACE Sp

A

Ivona Stan,

European Affairs Counselor, Directorate of Air Transport, Ministry of Transport

Cosmin C

ă

t

ă

lin Pestesan,

Public Manager, Head of Infrastructure, Air Navigation and Environment, Directorate of Air Transport, Ministry of Transport

David Ciceo,

President, Romanian Airports Association, Director General, Cluj-Napoca International Airport, member of the Board of ACI EUROPE

Ion-Aurel Stanciu

,

Director General, R.O.M.A.T.S.A. – Romanian Administration of Air Traffic Services

Anca Apahidean,

Area Head Romania, Moldova, Hungary, Czech Republic, Slovakia and Poland, IATA

Mihai Furtună

,

Partner,

Head of Aviation, ONV LAW
The event is organized with the support of the Romanian Airports Association.
The partners of the event are: ONV LAW, SACE and Biroul de Traduceri Champollion.
Media partners: Govnet, Limonade, Profit360, Catalog-cursuri.ro, Jurnaluldeafaceri.ro, Promoafaceri.ro, Calendar evenimente, Business 24, Ziare.com, Market Watch, Debizz, Learn & Go, 4 Career, MLM News.
About BusinessMark
BusinessMark is a business event management company that aims to provide the Romanian business environment with a professional space for discussions and networking. By combining methods of communication and business matchmaking, BusinessMark offers its clients complex development models, connecting them directly with the business environment and creating opportunities for strategic partnership. BusinessMark also offers PR services for entrepreneurs, startups and new businesses on the Romanian market