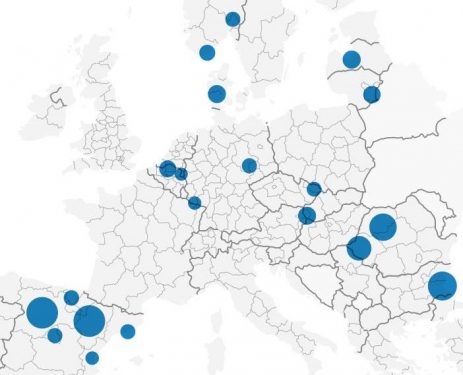 Source: Top 20 Growing Freight and Mail Hubs
EU data reveals strong growth for freight trade airports in Eastern Europe. Three airport hubs in the Balkan region rank in the top 5 fastest growing over the last decade, and six airport hubs in the wider Eastern European region rank in the top 10.
Analysing data from official EU air-freight figures, it was found that Romanian airports feature twice in the top 5 European growth airports of the last 10 years - Cluj Napoca/Avram Iancu airport (621% increase) ranks 4th, and Timisoara/Traian Vuia airport (497% growth) ranks 5th.
Showing the growth in economic potential in the Balkan region, Bargas airport in Bulgaria ranks 3rd in Europe for 10-year growth, with a 699% increase in freight tonnes per annum.
The research by CP Cases, manufacturers of high-performance protective casing, looks into data from the European Commission between 2008 and the latest annual data in 2018 for emerging European freight markets.
Completing the top 5, the European airports that have seen the largest 10-year growth of freight tonnes processed are Zaragoza airport (843% increase) and Valladolid airport (837% increase) in Spain. Spain has six out of the twenty fastest growing freight handling airports in Europe, as measured over the last 10 years - more than any other country.
The Eastern European airports that are also shown as making an impact on the European freight industry with 10-year growth are:
Riga airport, Latvia - 258% growth (6th in Europe)

Bratislava airport, Slovenia - 251% growth (8th in Europe)

Vilnius airport, Lithuania - 235% growth (9th in Europe)

Ostrava/Mosnov airport - 165% growth (17th in Europe)
Fiona Haggerty, Commercial Director of manufacturers CP Cases, states:
"Knowing the logistics map both of Europe and for the international market plays a large part in what we do at CP Cases, because it helps us to ensure our products are always doing the best job when it comes to protecting valuable equipment. While we still see products being utilised to transport equipment to the major freight hubs in Europe, we've noticed that some key new players are becoming increasingly popular in Europe, providing a more localised option for freight logistics.
As a company we are able to create bespoke cases for all kinds of freight logistics needs, and with investment to ensure the right infrastructure is in place, we can only see these localised hubs becoming increasingly popular as an alternative to the major European freight hubs."
Who's competing with the major European airport freight hubs?
Despite the increase of freight tonnes processed over the last 10 years by the Eastern European airports, there's still a large difference between most of these and the major 20 European freight hubs who process the largest amount of freight tonnes every year. Riga is currently the largest freight hub in Eastern Europe and 26th in Europe overall, processing 24,628 tonnes per annum.
Four European airports are competing with major players for tonnes handled, appearing in the top 20 for 10-year growth and also the top 20 for total tonnes in 2018:
Leipzig Halle airport:
1.232 million tonnes (5th in Europe)

172% growth over 10 years (15th in Europe)
Adolfo Suarez Madrid-Barajas airport:
972 thousand tonnes (6th in Europe)

173% growth over 10 years (13th in Europe)
Barcelona El Prat airport:
294 thousand tonnes (15th in Europe)

171% growth over 10 years (16th in Europe)
Zaragoza airport:
202 thousand tonnes (20th in Europe)

843% growth over 10 years (1st in Europe)
The airports that process the largest amount of freight tonnes in Europe are Frankfurt Main airport (2.25 million tonnes), Paris-Charles De Gaulle airport (2.243 million tonnes), and London Heathrow airport (1.789 million tonnes).