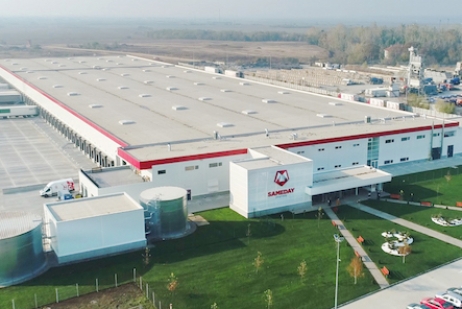 Source: Sameday Logistic Hub in Bucharest
Sameday, one of the largest players in the local courier market, announces that from April it will use 100% recycled plastic bags in the delivery process and will be actively involved in promoting responsible packaging consumption.
Sameday initiatives come to support and continue the company's plan to significantly reduce the impact that courier activity has on the environment and aims to discourage the use of these types of packaging by giving up free supplies and reorienting the resources to reduce the company's environmental impact.
The courier company undertakes that 30% of the collected amounts be used to identify and test different variants of eco-friendly bags, and that within 6 months at the most, it will offer customers the first 100% bio-degradable courier packaging. 70% of the amounts will be found in performance bonuses of the employees in order to promote the improvement of the take-up and delivery times of the packages.
"Since last year, we have started on a road where we are taking on and looking for solutions to change the direction in which we are building this industry. One of the issues we are addressing in the long term is the reduction of the carbon footprint, and a major component of this direction is the irresponsible consumption of plastic. The shipping industry in Romania uses half a million plastic bags daily, which reached the garbage disposal for hundreds of years and has a major impact on the environment. Customer needs must be correlated with the protection and respect of the environment. We have proposed that in the near future we will become, among others, the most eco-friendly courier provider in Romania ", said Lucian Baltaru, CEO Sameday.
Sameday has already implemented several measures in order to reduce the negative effects of courier services on the environment. The development of the easybox service (almost 400 lockers already installed throughout the country) allowed to reduce the carbon footprint by over 95%, due to the small number of routes traveled by a courier to deliver orders.
Developing environmentally friendly solutions for the Sameday fleet is another key issue in achieving the goal of reducing carbon emissions, in the context of urban pollution challenges. The company delivers from Bucharest in 2019 with six 100% electric cars and aims to reach 70 units by the end of the year. Also, the Sameday logistics center in Chitila is 100% green, and over 90% of the Sameday contracts are electronically signed, thus reducing paper and other consumables.