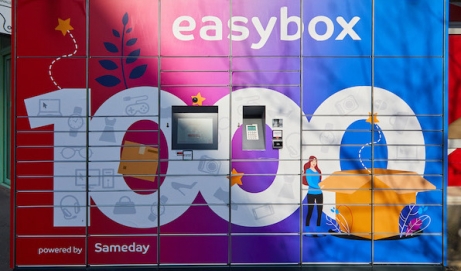 Sameday announces the expansion of the service easybox, by inaugurating the 1,000th locker. The company aims to double the existing network, until in the first quarter of 2022.
Operator of the largest automated delivery structure in Romania, Sameday launched the first locker in Bucharest, in September 2018, and since then, the company has constantly expanded this service, covering all counties of the country. Thus, at present, there are about 250 lockers in the Bucharestl, over 60 in Ilfov County and almost 700 in the country.
In the approximately two and a half years since the launch of the service, Sameday has delivered over 8 million orders in easybox lockers. The use of lockers has increased gradually, in Bucharest, for example, over 40% of those who receive the option of delivery to easybox, opt for it. Thus, in 2021, Sameday delivered, until March, more than 2.1 million orders in lockers, an increase of four times in volumes, compared to the same period last year.
"The launch of the 1,000th locker is an important point in Sameday's strategy. It allows us to be closer to a growing number of consumers and to serve ourselves and better customers who, more than ever, are looking for efficiency, predictability, convenience and flexibility. What we managed to build up now through the national network of easybox lockers is the result of an investment continuous in technology and a constant effort of improvement and integration of feedback received from our partners, but also from end users. They are the ones which give the measure of services and I am glad to notice that the interaction with easybox brings a high degree of satisfaction among the recipients. Thus the service becomes a criterion selection of the traders from whom they place orders. This did, along with the other benefits, as more and more online stores see in delivery to locker an opportunity and be with us in what we call << reinvention of last mile delivery experience >>. Easybox is a service I strongly believe in and want to unleashwe turn everything on moreover, to provide the best possible end consumer experience and support increasing the adoption of e-tail in Romania ", says Lucian Baltaru, CEO of Sameday.