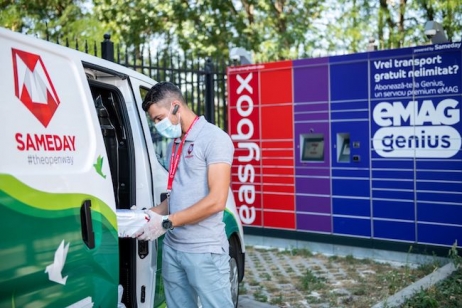 Courier service company Sameday accelerates the pace of expansion of the easybox lockers network nationwide and aims to reach 1,000 units by the end of the year. With around 600 lockers already installed, Sameday currently has the largest network in the country.
The cities with the largest number of easybox lockers are: Bucharest with 185 units, Timișoara with 39, Iași with 34, Constanța with 29 and Cluj-Napoca where there are 23 pick-up points. In the Capital, approximately 40% of Sameday deliveries take place through the easybox service.
The expansion will be carried out in partnership with renowned international manufacturers, including Keba - Austria, the global leader in automated logistics solutions for the delivery and collection of packages, with 20 years of experience in the market.
"The easybox service is an important strategic direction for Sameday, through which we aim to reinvent the delivery experience from traditional courier. The degree of adoption exceeded our initial estimates, which determined us to speed up the pace of installing new lockers, especially in cities such as Bucharest, Iasi, Cluj-Napoca, Timisoara, Constanta, Ploiesti and Sibiu. Our goal is that in these cities, customers have access, from any point, to a Sameday locker just 5 minutes walk. To achieve this plan, we tested various options and chose to implement a solution already tested in another 20 countries with maturity in e-commerce, such as USA, Germany, UK, Singapore, Australia ", said Lucian Baltaru, CEO Sameday .
"20 years ago Keba invented locks as a solution to automate deliveries on the last segment to the customer, in a dedicated DHL project. Since then, we have continuously developed products and become global leaders in the delivery of smart lockers, in the context of the exponential development of online commerce and related industries. Current trends in e-commerce go to lockers as a simple and convenient last mile delivery method. We expect that in Romania these solutions will be more and more widely adopted, especially in the context in which online shopping is becoming more popular. The partnership with Sameday is a very important one for us, last year we started designing a customized solution and we are glad that currently we already have over 200 units delivered ", said Elena Ionescu-Turda, General Manager of KEBA Romania.
The courier company also announces that it is open to partnerships with companies, associations or individuals in order to place easybox lockers on the spaces they own. The targeted partners include homeowners' associations (residential complexes), shopping malls, small entrepreneurs, local authorities, even individuals who have spaces located in urban areas, with high traffic, accessible 24/7. Those interested in placing an easybox locker must own a space of at least 3 square meters, located in a circulated area, with visibility and exposure and to be connected to electricity.
The easybox service was launched in November 2018 and is the most modern delivery method, with accelerated growth globally. The service offers greater accessibility than door-to-door services, the possibility to pay by card and due to 24/7 availability, the need to synchronize with the courier company's agent disappears, the recipient customer taking full control over the time of delivery .