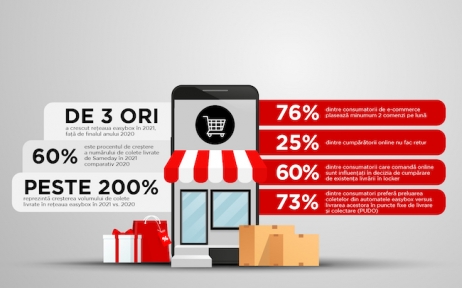 Courier company Sameday conducted a study on how e-commerce industry consumers relate to the courier market. The results illustrate key profile data to the Romanian buyer and the expectations he has from the courier companies.
According to research, in Romania, 76% of those who shop online place at least 2-3 orders per month, predominantly in the following categories: fashion (75% of women), electronic (72%, both women and men), personal care (64%, predominantly women working in the office), home appliances (57%), sports, recreation and hobbies (52%, mostly women with higher education).
According to the study commissioned by Sameday, consumers are showing openness to increasing the frequency of digital media purchases and mentions that the arguments that would motivate them are best delivery time, predictability and continuous availability, 24 hours a day, 7 days a week, for picking up packages.
Home deliveries remain the solution chosen by most online shoppers, for the comfort and convenience offered, but another option that gained ground, is represented by the deliverues to lockers. Only this year, the lockers recorded a significant increase in national adoption of over 50% compared to the previous year.
When it comes to returns, 1 in 4 buyers does not feel the need to return the purchased product and, thus, he has no experience with refund procedures. Instead, 30% of those who are familiar with returns choose to do so at easybox lockers. Asked what their ideal delivery service looks like, the research respondents have identified the following functional benefits as a priority: Ensuring the integrity of packages, compliance with delivery deadlines, announcing in advance the day and time of delivery and the speed ​​of delivery.
Asked what to choose from the PUDO delivery option (pick-up, drop-off, at dedicated offices, where clients can pay both cash and card) and easybox lockers, 73% of respondents chose the delivery to easybox lockers.
"The results of the research are a confirmation of the strategic direction we are pursuing in Sameday and the vision to provide customers with an easybox within a maximum walking distance of any urban point in Romania and Hungary. Delivery to easybox has become the new industry standard through which we revolutionize the courier experience, an objective that we aim to achieve through our services. In fact, the study showed that we capitalized on the quality and delivery times and that there are directions we can further optimize. " says Lucian Baltaru, CEO of Sameday.
Delivery service to the company's easybox lockers this year saw an increase of over 200% in number of shipments, and the network has tripled in size since November 2020. With over 14 years of experience on the Romanian market, Sameday is the courier company that has recorded the most spectacular increase in recent years, currently being among the main players in its market segment. Sameday won the Courier Company of the Year Award at the 2021 Courier and Postal Services Awards Gala offered by GovNET Romania.