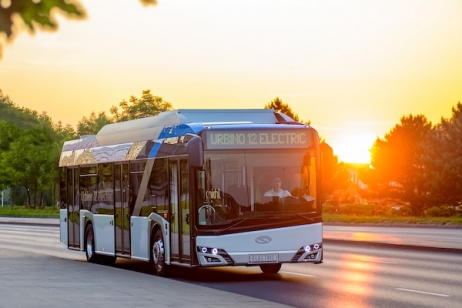 Solaris Bus & Coach, European producer of electric vehicles for public transport, announces the signing of a contract with the city of Pitesti for the delivery of 40 Solaris Urbino 12 electric buses.
The procurement procedure was organized by the Ministry of Development, Public Works and Administration, and the value of the contract amounts to over 100.4 million lei + VAT. Under the contract, 11 fast electric charging stations and another 40 slow charging stations were also purchased. The delivery time of the vehicles is a maximum of 22 months.
The 11 fast charging stations of 300 KW each will allow each vehicle to fully charge in a time interval between 2 and 10 minutes, and the slow ones to charge in a time of up to 6 hours.
The 40 electric buses complement the 70 diesel buses delivered by the European manufacturer in Pitesti in 2015.
Currently, over 300 Solaris vehicles are used in public transport in the cities: Craiova, Cluj-Napoca, Pitesti, Brasov, Satu Mare, Galati, Baia Mare and Oradea, electric and hybrid vehicles being predominant. Also, over 200 ecological vehicles will be delivered in the next 12 months to different municipalities in Romania.