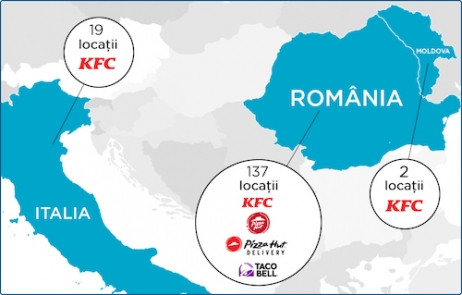 Sphera Franchise Group recorded in Q1 2021 restaurant sales of RON 211.4 million, 1.5% higher than in Q4 2020 and 6.6% higher compared to Q1 2020. The growth was supported by the solid performance of KFC Romania, Taco Bell Romania, and KFC Moldova.
In Romania, the Group's revenues increased by 6.9% compared to the same period last year and by 1.7% compared to Q4 2020. Sales in Italy increased by 2.5% compared to Q1 2020. Restaurants operating in the Republic of Moldova reported 19% higher sales than in Q1 2020, having the second-highest turnover recorded since the beginning of the pandemic, determined by an increase of 8 percentage points in delivery sales compared to Q4 2020.
KFC Romania and KFC Moldova ended Q1 with a cumulative EBITDA of RON 19.6 million and a net profit of RON 13.9 million, while Taco Bell Romania reported a restaurant operating profit of RON 0.1 million and a net loss of RON 1 million.
Pizza Hut managed to record the highest turnover since Q2 2020, reduced the loss by 20.5% compared to the previous quarter and, consequently, posted an improved performance compared to the previous year determined partially by the decision of the management to close the non-performing Pizza Hut units, starting Q3 2020. Pizza Hut Romania recorded a net loss of RON 3.7 million.
KFC Italy had a negative result of RON 8 million, because of the severe anti-Covid restrictions imposed by the Italian authorities in March 2021.
Sphera recorded normalized EBITDA (excluding the impact of IFRS 16) of RON 13.1 million, 271% higher than the same period of the previous year, and an EBITDA margin of 6.2%.
"The first quarter of 2021 was the best quarter of the Sphera Group on the Romanian market since the beginning of the pandemic, in terms of restaurant sales. The result is even more remarkable as it shows an increase in sales of over 6% compared to the same period of the last year when only two weeks were affected by restrictions. In these first three months of the current year, we focused on increasing sales through partnerships with online ordering platforms, dedicated offers for the delivery and Drive-Thru channels, as well as by continuing investments in expanding the restaurant network in Romania and Italy. We are confident that, as restrictions are lifted due to the expansion of the national vaccination campaign, which we also support at the Group level, we will be able to open the restaurants at full capacity, which will also lead to increased sales," says Călin Ionescu, Chief Executive Officer of Sphera.
Sales through online ordering platforms or own channels remained at the same level as in Q4 2020, 31% of total orders in all three markets of activity were delivered by food platforms or using Group's own delivery capacity.
In addition to KFC and Pizza Hut's delivery services in Romania, each brand has partnerships with delivery platforms such as Glovo, Foodpanda, Takeaway, Tazz, etc. The relatively high share of deliveries in total sales in the first quarter of 2021 was mainly due to the weather, as well as the restrictions on indoor access in most restaurants operated by the Group. As the weather improves, the vaccination campaign progresses and indoor dining restrictions ease, the share of delivery sales is expected to decrease, reaching levels similar to those recorded in Q3 2020.
"We maintain our ambitious budget estimates for 2021, based on the gradual recovery of sales during 2021. Q1 2021 was an excellent quarter given the circumstances. We expect that starting with H2 2021, we will resume our activity as close as possible to normal. Consequently, we estimate RON 1,158 million in restaurant sales in 2021, RON 150.5 million in restaurant operating profit, and a normalized EBITDA, excluding the impact of IFRS 16, of RON 95 million. We expect that delivery sales will continue to have a significant share in total sales in 2021, of approximately 25%," says Valentin Budes, Chief Financial Officer of Sphera.
In Q1, restaurant expenses increased by only 2.5% as a result of continued cost control. Expenses related to salaries and employee benefits decreased by 6.1% compared to the same period of the last year.
The technical unemployment benefits reached in the first quarter the value of RON 919 thousand, of which RON 840 thousand in Romania and RON 79 thousand in Italy. At the end of the first quarter of 2021, the Group had a total of 4,787 employees in all three markets in which it operates. In Q1 2021, approximately 4% of employees in Romania and 17% of employees in Italy were in technical unemployment.
In the first quarter of 2021, Sphera opened two new KFC restaurants, one in Sfântu Gheorghe, Romania, and one in Pomezia, Lazio region, Italy, the latter being the first Drive-Thru unit outside Romania.