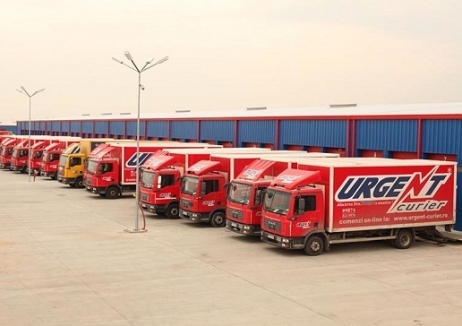 Source: www.urgent-curier.ro
After acquiring Cargus in October 2012 from DHL, the Polish-based private equity fund manager Abris Capital Partners expands investment in the domestic courier market by taking over Urgent Curier, one of the leading companies in this industry, according to a press release.
Subsequently, the two companies will merge into an entity, as equal partners, so the new business will result into a logistics network of 142 warehouses across Romania with a team of 1,800 couriers and a fleet of 1,800 vehicles as well.
Urgent Curier is owned by Corina Balasescu and Sebastian Balasescu and has been in the business for ten years, in 2013 posting revenues of 26 million euro which placed it the second in the domestic courier market.
Upon closing the transaction whose value has not been disclosed yet, Gian Sharp, currently Cargus's CEO, will be at the helm of the merged companies under the direction of a Board of Directors consisting of the leadership of Abris Capital Partners and the present owners of Urgent Curier.
Last year, Cargus International which is the first Romanian courier company, founded in 1991, saw an increasing turnover of 25.7 million euro, slightly below Urgent Curier's performance, hence Gian Sharp foresees a possible change of the leader in domestic courier services following the merger: "By merging the two companies, we establish a very strong and reliable player with premises of becoming the no. 1 in the courier industry by offering a mix of strong benefits held by both companies (...)", he said, as per the mentioned source.
Abris Capital Partner is a leading independent private equity fund manager with assets of over 770 million euro, focused on mid-market opportunities in the major countries of Central and Eastern Europe. Through the new transaction, part of the investment strategy in Romania, it consolidates the portfolio in the courier sector with a newly established business to become one of the largest players in the domestic market.
In Romania, the courier industry is among the few that record consistent growth year-on-year, last year the market exceeding 250 million euro, according to professionals' estimations and as Gian Sharp also highlighted during Govnet's Courier&Postal Services Forum 2014 held this year in March.