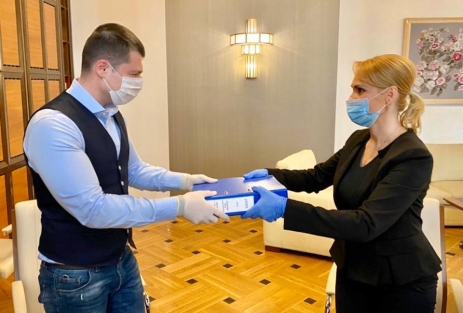 The tender was won by the only bidder enrolled in this process, who was declared the winner as a result of meeting the requirements requested in the specifications, the Turkish-German Association Bozankaya Otomotiv Marina Imalat Ithalat Ve Ihracat A.S. - Sileo Gmbh.
The new trolleybuses have a capacity of minimum 96 passengers, a length of 12 meters, and, in case of interruption of the supply of electricity, autonomy in operation of minimum 20 km, ensured through the own generator group of the trolleybus.
Thus, the number of new means of public transportation contracted so far by the current management of the Capital City Hall for the modernization of the Bucharest Transport Company's car park reaches a total of 630, totaling the 100 trolleybuses, the 400 Euro 6 buses purchased last year and which is in traffic and the 130 Mercedes-Benz hybrid buses, whose delivery will start soon and will be done step by step.
The trolleybuses will be equipped with automatic air conditioning, with a large passenger transport capacity, with special functions for the disabled.
They will also be equipped with wireless technology for travelers and USB sockets for fast charging of mobile devices, with a powerful computer system that allows both the provision of real-time travel information and the provision of important data on the trolleybus operating status to the Company. of Bucharest Transport.
According to the contract, the delivery will start from November 2020 and will extend over a period of 16 months, as follows: the first trolleybus will be delivered in November 2020 for approval, and then the rest of the trolleybuses will be delivered until February 2022.
The guarantee of the operation of the Bozankaya Otomotiv Marina Imalat Ithalat Ve Ihracat A.S. - Sileo Gmbh trolleybuses is 4 years and 240,000 km. Also, the trolleybuses also have an extended warranty for 4 years and 240,000 km, in the corresponding operating range from year 5 to year 8 inclusive.
The contract value is about 43 million Euro excluding VAT, and the funding comes from the Environmental Fund Administration, within the "Program on improving air quality and reducing greenhouse gas emissions, using less polluting vehicles in local public transport. people".
The request of the City Hall was submitted in October 2018, and the financing contract was signed in December 2018.