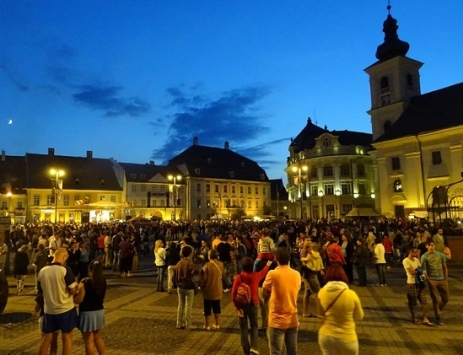 Source: www.sibiu.ro
The first ten months of 2014 marked a growth in both tourist arrivals and overnight stays for Romania's hospitality industry, according to the data released by the National Institute of Statistics (INSSE).
There has been recorded an increase by 6.5 percent year-on-year in terms of arrivals in tourists' establishments, which came to nearly 7.3 billion, while the overnight stays totaled about 17.7 million, 5.4 percent more compared to the corresponding period in 2013.
Of them, about 77 percent were Romanian tourists, while the foreign tourists account for some 23 percent, close to the level registered during 2013. Most of them originate from Europe (about 77 percent) – the European Members having the highest contribution, 85 percent. Thus, Germany, Italy and France are the main origin countries of the foreign tourists visiting Romania. Similar percentages have been recorded in terms of overnight stays: most of the tourists were Romanians (81.5 percent), while of the foreign tourists, the highest weight had those coming from Europe (about 76 percent), 84.5 percent of them coming from EU Member States.
In October 2014, the uptrend has been maintained, with arrivals advancing by 9.9 percent over October 2013, yet, the overnight stays have seen a less accelerated growth rate, as compared to the overall period – only 2.5 percent yoy.
Romanians accounted for about three quarters of the total number – nearly 75 percent as regards arrivals and 78 percent in terms of overnight stays, whereas the shares of foreign tourist were approximately the same recorded for the full period: 74 percent of the foreign tourists' arrivals have been generated by European tourists, almost 86 percent of them coming from the EU. As regards overnight stays, some 73 percent of the total foreign tourists were Europeans and approximately 86 percent of them, EU citizens.
Between January and October 31, 2014, the average time of stay was 2.6 days for Romanian tourists and 2 days for foreigners, whereas in October 2014, Romanians spent an average of 2.4 days, while foreign tourists, 1.9 days.
Bucharest and other county towns were the destinations preferred by half of the Romanian tourists and were also chosen by over 80 percent of the foreign tourists, based on the data relative to October 2014. The Danube Delta area is still the last on top of tourists' destinations not only for Romanians, but for foreigners as well.