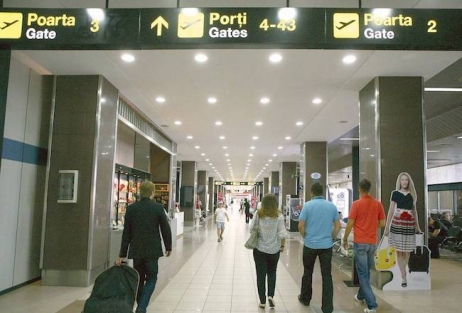 Bucharest City's two airports - Henri Coanda and Aurel Vlaicu - have joined the top five Q1 2017 highest rising airports in terms of passenger traffic increases, according to news from the Airports Council International Europe cited by the Bucharest National Airport Corporation (CNAB) in a press statement.
In the group of airports welcoming between 5 and 10 million passengers per year Henri Coanda (OTP) was third, with a 21.5-percent increase, after Reykjavik-Keflavik (Iceland) and Kiev. Bucharest Baneasa (BBU) was first in terms of growth in the group of airports welcoming less than 5 million passengers per year. It was followed by Foggia (Italy), Nis (Serbia), Zadar (Croatia) and Oradea, according to ACI Europe.
CNAB says the OTP and BBU airports together reported Q1 2107 air traffic of 2.6 million passengers and 28,249 landings and take-offs.
"The development in the number of passengers at the two airports of the Bucharest National Airport Corporation significantly exceeds the overall European trend of 6.9 percent. The Bucharest airports also reported increases in landings and take-offs, again exceeding the European trend of 3 percent. In the first eight months of 2016, the number of landings and take-offs was up 8.6 percent y-o-y," says CNAB quoted by Agerpress.
CNAB has been established following a merger of the Henri Coanda International Airport National Corporation and the Aurel Vlaicu Baneasa International Airport National Corporation.
It started operating on February 5, 2010. Its registered share capital is standing at 143,772,150 lei. Shareholdership is divided as follows: the Romanian Government via the Transport Ministry — 80 percent; Fondul Proprietatea sovereign fund — 20 percent.