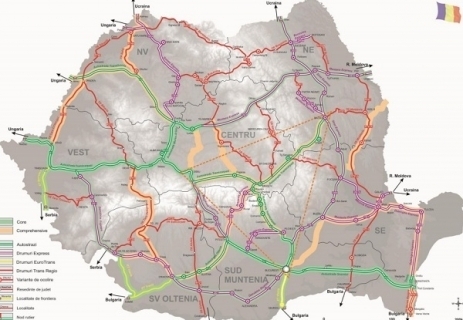 Source: www.ampost.ro
The Ministry of Transport presented the updated General Transport Master Plan (GTMP) envisaging the transport development strategy until 2030 which requires total investment of more than 48 billion euro.
The new version, which is the final one, amends the draft released in October 2014 for public debate and proposes multiple changes as regards the road infrastructure.
While the initial plan provided an unexpected transport strategy as most of the projects foresaw expressways instead of highways, the reviewed GTMP comprises road projects for 1301 Km of highways (645 km more) which needs estimated investment of more than 13 billion euro (without VAT).
Thus, Sibiu-Pitesti, Bacau – Pascani, Tg. Neamt – Iasi – Ungheni, and Tg. Mureș – Tg. Neamt road sections formerly projected as expressways, were included in the highways map.
Hence, the new Master Plan additionally includes 1,878 Km of expressways, 3,147 Km of trans-regional and trans-European roads, and 67 bypasses (independant or part of highway or expressway projects), plus Bucharest's ring road, as highway, which will bring the investment in the road infrastructure to nearly 26.5 billion euro.
As regards the rail sector, the GTMP provides rehabilitation projects for 3,219 Km of railway lines, as well as modernization projects for railways with economic potential (1,131 Km), electrification of railway sectors belonging to the TEN-T Core network (425 Km), and high speed rail projects (1000 Km) to connect Romania's main cities. According to the Ministry, the necessary funds amount to 19 billion euro.
The final draft proposes investment of over 2 billion euro in the water infrastructure sector which will be used for 752 Km of waterways and for modernizing 12 ports.
The investment plan for the air sector has also been revised, yet to a smaller extent. Thus, 14 of the 16 international or regional airports should be renovated in the coming years, the required funds coming to 588 million euro. Apart from modernization works, the GTMP includes 12 intermodal centers across Romania which will need investment of 142 million euro.