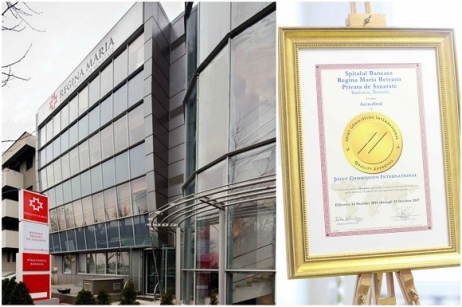 Source: Regina Maria
Baneasa Hospital, part of Regina Maria private health care network, has achieved Joint Commission International accreditation, recognizing its practices in quality and patient safety, being the first Romanian medical institution certified by the global leader in international health care accreditation.
"Achieving this international performance by Baneasa Hospital is a national premiere and a major step forward for the entire medical sector, being the first medical institution that successfully aligns to the global community of JCI accredited organizations", stated Fady Chreih, Regina Maria's CEO. He further explained during a press conference that although there isn't any ongoing accreditation process for the other health care establishments, the company aims at achieving JCI accreditation for the other units of the medical network, as well.
Of more than 20,000 health care organizations assessed by the JCI, only little above 3.5 percent are eventually accredited. Thus, the hospital joins other about 700 top health care institutions across 90 countries worldwide which are endorsed by the JCI, becoming the sole maternal and child health unit among the most reputed medical facilities in Southeastern Europe.
Lasting about 1 year, the accreditation process involved the evaluation of over 1100 items and 285 standards, which determined a rate of compliance with the Commission's applicable standards of 98 percent, one of the highest in the region. The project required a total investment of some 200,000 euro, of which 60,000 represented the JCI's accreditation fee.
The hospital has earned the accreditation for a three-year period, after which a new assessment will be done for ensuring continuous complinace with the quality and patient safety standards imposed by the JCI.