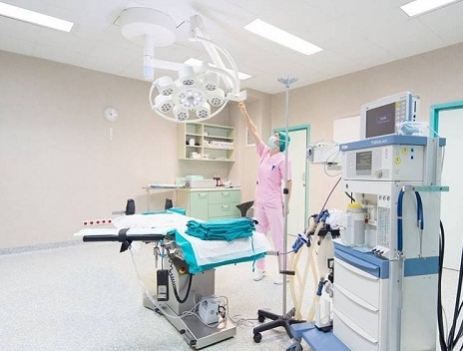 Source: Regina Maria
Estimated at about half a billion euros in 2013, the private medical services market has continued its development this year, though less accelerated, marked by significant investments among the major players that have carried on with their expansion.
MedLife, Medicover, Regina Maria, Sanador or Gral Medical are some of the largest private health care operators in Romania, striving for a bigger slice of a growing market supported by the increasing number of Romanians who choose private clinics, analysis laboratories or hospitals instead of public facilities.
According to a study conducted by Mednet at the end of 2013, over three quarters of the respondents have turned to private health care services compared to only 57 percent in 2009.
Underlying this increase were the ongoing expansion of private clinics and medical offices, as well as laboratories and private hospitals corroborated by a greater capacity for treating patients, professionalism and friendliness of the staff along with technical equipment, whilst the public health care sector is facing financial difficulties and deterioration.
The uptrend has been maintained in 2014, too, MedLife, which is the largest operator in the domestic market, foreseeing, for the first time, over 2.5 million patients, according to Mihai Marcu, Chairman of the Board.
While last year ended with a turnover of about 72 million euro, in 2014, MedLife anticipates a growth up to 80 million euro, given the results corresponding to the first half of the year: an advance by 12 percent year-on-year generating revenues of 38.3 million euro. An above-market growth, says Marcu, market which will not rise by more than 9 percent this year.
For the private health care network Regina Maria, 2014 has also been a year above average-growth. With a 16 percent progress in H1, the company's turnover amounted to 27 million euro, so that it could expand to 55 million euro for the full year, considering the projected growth by 20 percent, explained Fady Chreih, CEO Regina Maria.
The third largest private health care company on the Romanian market, Medicover has recorded slightly smaller revenues, 24.5 million euro in the first half of the year after an increase by 7 percent compared to the same period last year, according to official data from the Trade Register Office.
Sanador ranks the fourth based on H1 results, with revenues of 19.8 million euro. Double-digit growth has been achieved by Gral Medical, too, the first six months of this year generating turnover of 11.4 million euro, up by 18 percent year-on-year.
Apart from these major medical service operators, there are several much smaller health care providers in Romania, thus leading to a rather fragmented market which needs consolidation.
Mihai Marcu, MedLife, anticipates important changes in this sector whose evolution will be impacted by some major transactions which will be announced in the near future, deals which concern both acquisitions of important operators, as well as consolidations in terms of national presence of the leading players in the market.
On the other hand, the policies applied by the Ministry of Health and the CNAS (National Health Insurance House) affect the future evolution of the market say the health care providers who have been imposed certain limits in terms of the fees charged for services reimbursed by the CNAS. The most disputed is the 300 ron threshold for the charges for accommodating patients which is considered abusive and will force health care operators in the private sector to break the contracts with the CNAS eventually.
As Marcu also emphasized, this sector needs predictability and stability on mid and long-term for investments to be implemented, otherwise, any unforeseen modifications will create major imbalances which will eventually lead to a diminution of major investments.