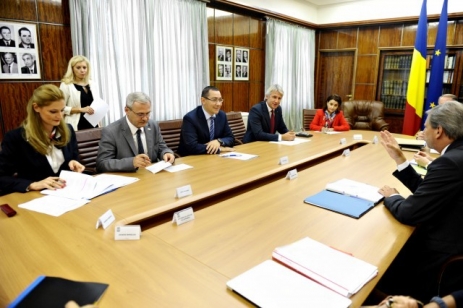 A new Mission of the International Monetary Fund pays a visit to Bucharest as from today until February 5 in respect to the 2 million worth precautionary arrangement approved last year in late September. The IMF delegates will discuss on the first and second assessment of the agreement with Romania, Guillermo Tolosa, the IMF representative in Romania and Bulgaria, said, according to Agerpres.
'The IMF mission will discuss with Romanian authorities the recent economic evolution and the priorities in terms of economic reform. Also, there will be discussed the measures for compensating the revenue deficit caused by postponing with three months the increase in the excise fuel duty, so as to ensure the budget deficit target of 2.2 percent of the GDP.', Tolosa explained, quoted by the press agency.
Apart from the IMF delegates, the Mission also consists of representatives of the EU and the World Bank, as besides the 2 million euro arrangement Romania has with the Fund, there was requested an additional 2 million euro precautionary support to the European Union. Andrea Schaechter is the head of the Mission which will meet with representatives of the business and financial environment, too.
The arrangement in question, despite ongoing, according to the Romanian Minister for Budget, Liviu Voinea, has not been approved by Traian Basescu, the Romanian President refusing to sign the memorandum, as announced at the beginning of December, 2013. Then, Basescu justified his decision by saying that he is against the 7 eurocents increase of the excise duty on fuel the Government undertook to introduce, as Govnet informed.
Subsequently, Victor Ponta postponed the introduction of the new tax until April 2014 in order to get this year's budget approved by Basescu, who maintained his initial position, arguing that the excise fuel duty should not be introduced at all.