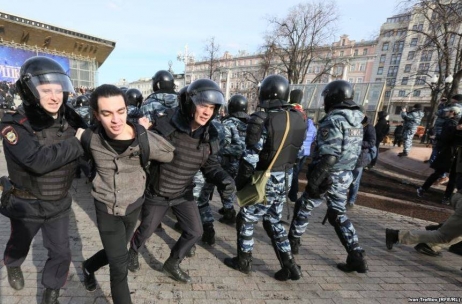 Source: Ivan Trefilov, RFE/RL
The US strongly condemns the detention of the hundreds of peaceful protesters, observers on human rights and journalists in Russia, reads a message published on Monday on the US Embassy in Bucharest Facebook page.
The diplomatic mission's message also refers to a statement of Department of State Spokesman Mark Toner.
"Detaining peaceful protesters, human rights observers, and journalists is an affront to core democratic values," said Toner, adding that the Russian people, same as the people worldwide, deserves a transparent governance that can be made accountable, equal treatment in front of the law and the possibility to exercise their rights without fear of oppresion.
The Moscow police announced the detention of about 500 persons in an unauthorised meeting convened by Opposition figure Alexei Navalny, who was also detained. According to OVD-Info organisation, specialising in monitoring protests, there are at least 933 persons in the capital and other tens in the province. In Sankt Petersburg, where about 4,000 protesters gathered on Sunday, there have been performed over 130 arrests, according to Interfax agency, cited by AFP.