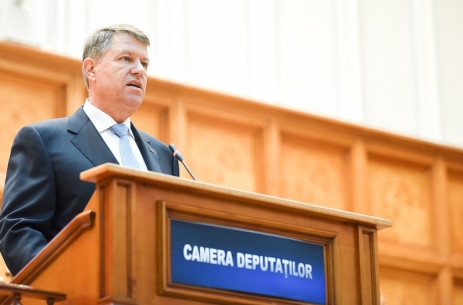 Source: www.presidency.ro
The accession to the Eurozone is one of Romania's strategic objectives, however we need to set a clear calendar on this topic among the factors in charge, namely the Government and Parliament, President Klaus Iohannis said quoted by Agerpress.
"I have an assessment both political and somewhat technical. (...) It is an important strategic objective of Romania to join the Eurozone. From a technical stand, Romania has met, for a while, the Maastricht criteria, and this way, we could start the construction of an accession calendar; however things aren't very clear among the factors that must set this calendar which must also be seen through, namely the Government and the BNR [the National Bank of Romania]. It will probably last a little until this new Government understands its role in the state architecture and starts evaluating these things," Klaus Iohannis told an interview to Calea Europeana online media platform.
The head of state also underscored that the specialists' opinions aren't identical on this matter either.
He also said that in this matter other elements besides technical criteria must be taken into account, calling for a fast establishment of stage goals.