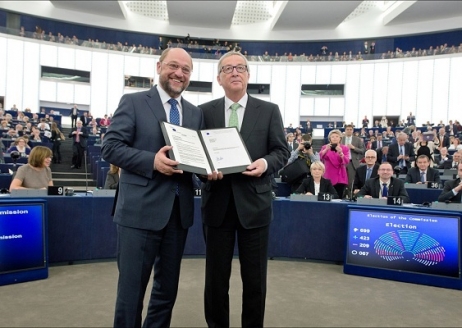 Source: http://www.europarl.europa.eu/
MEPs today approved the new college of 27 commissioners, as presented by its President, Jean-Claude Juncker, by 423 votes to 209, with 67 abstentions. Subsequently, the new Commission will be appointed by EU heads of state or government and will take up duty on November 1 for a five-year term.
In his opening statement before the Parliament, Jean-Claude Juncker outlined a number of changes to portfolios as requested by committees after the hearings of Commissioners-designate.
"The future Commission will be very political", said Juncker, according to a release of the Commission. He defended its new architecture, with Vice-Presidents to "coordinate, put together and organize ideas". He stressed that he had had to "fight" to get enough women on board his college but admitted that "9 women out of 28 Commissioners is still pathetic."
Taking on board criticisms expressed by MEPs as part of the hearings, Juncker said he had decided to give the pharmaceuticals back to the health commissioner Vytenis Andriukaitis, jointly with Elżbieta Bienkowska, who would also be responsible for space policy, citizenship to Dimitris Avramapoulos and sport to Tibor Navracsics. He said he could not agree to the proposal to delete the word "negotiations" in the title of the enlargement portfolio as this would mean deluding the EU candidate countries.
On the proposed Investor - State Dispute Settlement clause in the TTIP talks, he said he would not allow the jurisdiction of EU courts to be limited by such a clause. He also stressed he would stick to his 300 billion euro investment package proposal, which will be presented "before Christmas."
"The rules (of the stability pact) will not be changed", Juncker said, underlining that "they will be implemented with the degree of flexibility" that the treaties allow.