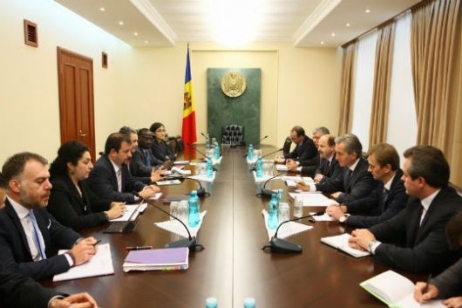 Source: www.moldova.org
The payment of Moldovan pensions and salaries looked as if it was going to be put on hold since the International Monetary Fund announced that it will not be negotiating another loan with the country during their representatives' current visit to Chisinau.
IMF delegates started on a two day visit to Chisinau shortly after Moldovan Central Bank governor, Dorin Dragutanu resigned as a result of 1,5 billion dollars mysteriously going missing from the bank's accounts. Two weeks of protests followed this unfortunate development and, as it were, hastened Dragutanu departure.
The Moldovan Prime Minister, Valeriu Strelet had hoped for advanced negotiations which might result in a deal that would help the Moldovan government pay for the salaries and pensions, the Washinton Post reports in its September 22nd online issue. However this was not the case.
Nevertheless, after Romanian Prime Minister Victor Ponta announced on Tuesday that Romania wishes to help in this matter, Strelet seemed to have a more optimistic view about the future of his financially strained country and pro European government. Romania and Moldova share cultural, genetic and linguistic history, since they used to be one country until 1940 and the Romanian language is spoken, albeit in slightly different accents, in both nations even today.
This reality has lead to strong cultural and political bonds between the two states, and, Romania has continuously been pursuing a policy of maintaining these bonds as well as supporting Moldova in its pro European approach.