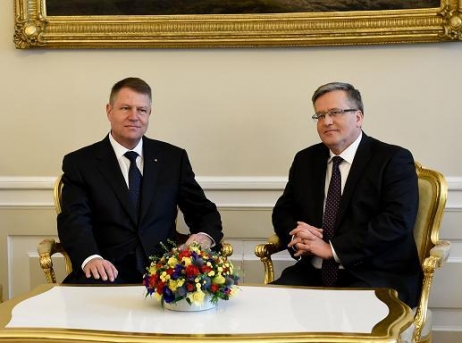 Source: www.presidency.ro
Romanian President Klaus Johannis and his Polish counterpart, Bronislaw Komorowski, adopted on March 12, 2015 a Joint Statement which strengthens the cooperation between the two EU Member States as the field of energy security has gained increasing importance in the current geopolitical context.
The Joint Statement comprises nine directions and was adopted on Warsaw, during the official visit of Klaus Iohannis.
According to the presidency of Romania, the two countries committed to a consistent promotion of the unity and political solidarity within the EU and NATO, of the cooperation between the EU and NATO, as well as of the strengthening of the transatlantic relations.
Also, the two presidencies will establish a permanent consultation mechanism in the field of security and defence, while there will be a close cooperation between Romania and Poland in the field of energy security, which will include support for the Energy Union by developing north-south transit corridors and by diversifying the supply sources.
"Poland and Romania will support each other in achieving their common European goals such as: further deepening of the European construction based on its founding values and principles, supporting the European policies aimed at economic growth, strengthening the Economic and Monetary Unions, reinforcing energy security, pursuing the expansion process, promoting the updated European Neighborhood Policy and Eastern Partnership - in view of creating an area of prosperity and stability near the EU and carrying out negotiations on the Transatlantic Trade and Investment Partnership as soon as possible," states the Joint Statement.
At the same time, Romania and Poland committed to ensure an European perspective for the states of the Eastern Partnership (the Republic of Moldova, Ukraine and Georgia) that signed the EU Association Agreement.

Also, the strengthening of NATO's eastern flank is another strategic objective included in the Statement. Thus, the two countries will develop their strategic partnerships with the United States which will translate into relevant presence of the US army in their territories, contribution to the European missile defence system and joint missions or training exercises.