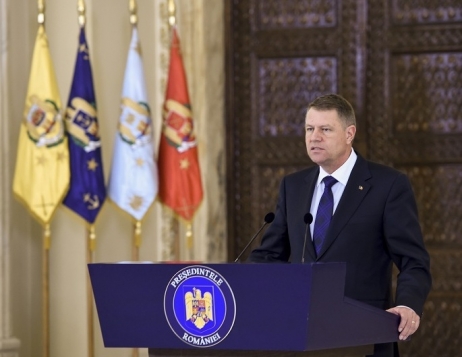 Source: www.presidency.ro
Klaus Iohannis is traveling to the Republic of Moldova in its first official trip as Romania's President.
Iohannis scheduled a two-day state visit to Chisinau between February 24 and 25 where will meet with his Moldavian counterpart, Nicolae Timofti, the newly-appointed Prime Minister Chiril Gaburici, as well as with leaders of the liberal and democratic parties in our neighbouring country.
According to the official schedule, the President will begin his diplomatic trip with a visit to his counterpart's official residence for a tete-a-tete.
After that, Iohannis will meet with Chiril Gaburici, while in the evening he will attend the official dinner offered by the Moldavian President.
In the last day in the Republic of Moldova, Klaus Iohannis will meet with the leaders of the Liberal Democratic Party of Moldova (PLDM), of the Democratic Party of Moldova (PDM), and of the Liberal Party of Moldova (PL).
Then, the President will talk to the President of the Moldavian Parliament, Adrian Candu, and will participate at a wreath laying ceremony at the "Stefan cel Mare si Sfant" Monument.
Iohannis will conclude his official trip with a visit to the local State University where will give a short speech to the Moldavian students.