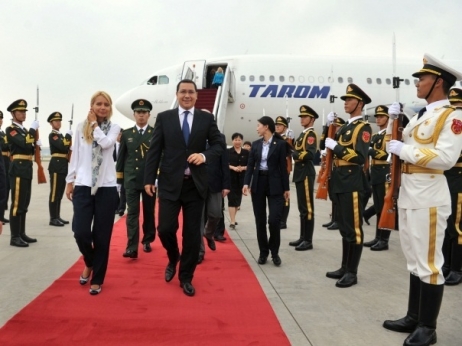 Romanian Prime Minister Victor Ponta started on August 30 his five-day official visit to China after his Chinese counterpart, Li Keqiang, invited him as a response to the visit paid to Romania in November 2013, states a press release from the Government.
Received by the Chinese President, Xi Jinping, Ponta's agenda includes official talks with Li Keqiang, as well as a meeting with Zhang Dejiang,Chairman of the Standing Committee of the National People's Congress.
According to the Government, the topics to be approached concern aspects related to the strengthening of the EU-China relation and future steps in the cooperation between the Central Eastern Europe and China in view of implementing the actions agreed at the Bucharest Summit in 2013. Talks will also deal with the bilateral relations between Romania and China, focusing on the energy, infrastructure and agriculture projects envisaged during previous discussions at Bucharest.
There is also an economic reunion with representatives of major Chinese companies and banks already present or willing to invest in the Romanian market scheduled as a sideline to the visit. Victor Ponta will travel by high-speed train to Tienjin where he will visit a technology park and will be meeting with representatives of companies operating in the IT, automotive parts, bioproducts and car manufacturing sectors.
On this occasion there will be signed several bilateral documents, shows the said press release.