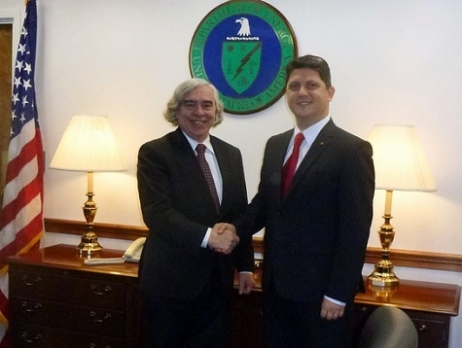 The Romanian Minister of Foreign Affairs, Titus Corlatean, had yesterday a meeting with the United States Secretary of Energy, Ernest Moniz, discussing about a possible assistance in view of updating Romania's National Strategy in the Energy field. Corlatean, who is paying a visit to Washington these days, also outlined the interest the Romanian authorities have in strengthening the Romanian-USA Strategic Partnership and expanding its economic side, pointing out the role of the energy sector, the Ministry announced through a press release.
Ernest Moniz confirmed the US concern in developing a complex energy strategy, with the energy efficiency as a key point, corroborated by a balanced energy mix by integrating renewable energy and electricity systems. Thus, he reinforced the availability for expanding cooperation between the US and Romania in strategic approaches by mutual exchange of experience and sector analysis.
"The Romanian dignitary reiterated the interest of our country in enhancing the EU-US dialogue in the energy field for a consolidated approach at Euro-Atlantic level, so as to allow even a more efficient management of emerging regional issues concerning energy security. He highlighted the importance of applying efficient policies likely to reassure Europe's security in terms of energy supply and to provide Ukraine with energy alternatives", states the informing.
As per the aforementioned source, the Minister also "emphasized the support of the Romanian Government in the successful completion of the future Transatlantic Partnership on Trade and Investments (TTIP) in the energy sector, especially with respect to diversifying resources, energy trade and the liberalization of the energy market".
Besides these, Corlatean approached the energy security subject in the Eastern Europe region, given the latest incidents, restating the necessity of better interconnections in the energy infrastructure in the East Europe area, especially concerning the Republic of Moldova, as well as the necessity of promoting inter-regional energy projects allowing the European market to possibly access other gas market in the Caspian, Mediterranean and Middle East regions.
In his turn, Ernest Moniz, saluted the initiatives of the Romanian authorities for securing a proper legislative and institutional environment for foreign investments, and implicitly, American investments in the energy sector. At the same time, the United States Secretary of Energy mentioned the US interest on projects targeting the increase of energy independency of Europe's states, hence Romania's, considering the Ukrainian crisis.