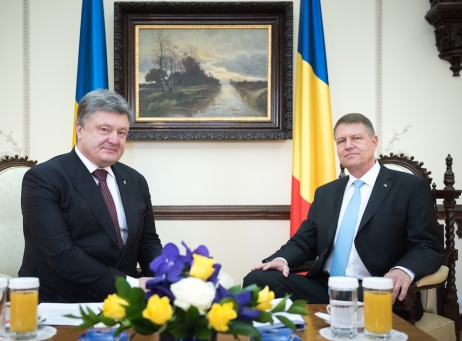 Source: www.presidency.ro
Klaus Iohannis and Ukrainian President Petro Porosenko have signed Thursday during Porosenko's official visit at Cotroceni, a protocol for the relaunching of the Presidential Mixt Committee. According to Iohannis, the Committee will be an instrument that will impulsionate the two countries to solve the existing themes on the bilateral agenda, and will allow them to "fully value the potential of cooperation" between the countries, giving the example of the Bastroe canal.
Porosenko declared that his country supports the creation of a NATO fleet in the Black Sea, and a Romanian-Ukrainian-Bulgarian brigade as the one between Poland, Lithuania, and Ukraine.
Also, the two chiefs of state have signed bilateral agreements on military transportation, and common patrol at the Romanian state frontier. They agreed "it is best to develop cross-border projects, and cooperation regionals in certain sectors- economy, tourism, infrastructure building", Iohannis evoquing the possibility of a bridge on Tisa, Sighet-Solotvino.
A better implementation of the Agreement regarding little traffic, the evolution of the infrastructure projects, opening new fronteer points, opening a Romanian Consulate at Solotvino, intensifying economic relations at the boarders, especially in energy interconnection, were all tackled in the meeting, accordin to Klaus Iohannis.
Nonetheless, the Romanian President revealed the activity of the Governmental Committee for minorities regarding the Romanian minorty in Ukraine and the other way around, will be restarted after a 10 year break.
by Mihaela Constantin