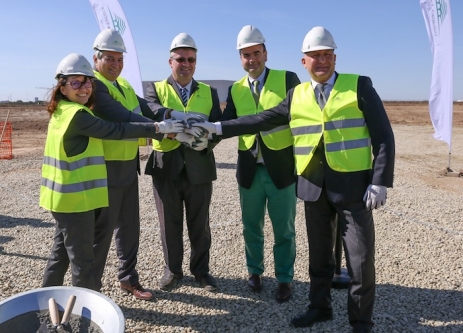 Dunapack Rambox, the local subsidiary of the Dunapack Packaging division, part of the Austrian group of Prinzhorn Group, announces the start of construction works for the new corrugated corrugated packaging factory in Bolintin-Deal. The new Dunapack Rambox production unit will work in addition to the existing plant in Sfantu Gheorghe, Covasna, to be benefited from a significant technical upgrade. The Bolintin plant is scheduled to begin operating in June 2019 and will create 150 new jobs.
The new production unit of 27,000 m2 will be equipped with state-of-the-art equipment such as a 2,8 m high corrugated cardboard, the Fosber brand, a Bobst brand of high-precision cardboard, and the Bobst brand, but also an automated pallet operating system. The factory's planned production capacity is 180 million m2 / year. Together, the two Dunapack Rambox plants will reach an annual production capacity of approx. 300 million m2 / year.
"Romania has been and still is one of our key development markets. With the support of local authorities and all the resources at hand, we are pleased to take this major step into a growing, dynamic growth market, "says Cord Prinzhorn, CEO of the Prinzhorn Group, a holding owned and operated by the family of the same name.
The factory in Bolintin Deal will ensure the production of high quality corrugated cardboard boxes, large industrial packaging, retail and e-commerce packaging as well as a wide range of high quality packaging solutions. The broad spectrum of production reflects the requirements of an increasingly segmented consumer market.
"The location of the new Dunapack Rambox plant, just 20 kilometers from Bucharest, will allow us to offer our customers in Romania the best quality of our products and services. In addition, due to the flexible configuration of the technical equipment, we have the ability to act quickly and efficiently against the new challenges in the industry, "explains Alexander Enzenberg, CEO of Dunapack Packaging.