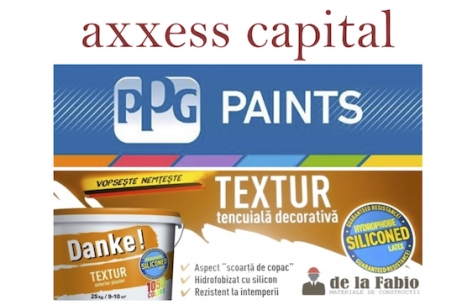 Axxess Capital, the investment advisor of Emerging Europe Accession Fund ( "EEAF"), announces the sale of the stake held in Deutek S.A., a top company operating on decorative paints market. The transaction is subject to obtaining the approval of the Competition Council.
The company DEUTEK, founded in 1993, has turned into a significant player in the market for decorative paints, with sales of EUR 30 million in 2015 through a network of 124 DIY stores nationwide and a total of 3,500 construction material stores. DEUTEK sells a wide range of products under the brands OSKAR and Danke!.
Following the acquisition Deutek by EEAF 2013, the company accelerated its growth with the mission to strengthen its position in the market.
Horia Manda, Managing Partner of Axxess Capital said: "We were very pleased to be working in Deutek one of the most experienced management teams in close cooperation with Romania and this allowed the obtaining of excellent business and financial performance of the company. The decision to sell Deutek, although difficult, was made in accordance with the mission EEAF to sustain accelerated growth strategy of portfolio companies, aiming to make them attractive to global players in various industries. In this regard, we are very proud that Deutek was acquired by PPG, a leading manufacturer of paints, coatings and special materials, and are confident that industry expertise with international resources and local knowledge will propel the company in the coming years at market leadership."
Axxess Capital is an independent investment fund administrator with over 15 years of experience in the market of capital investments in small and medium companies in Southeast Europe and which manages over 250 million Euro in three investment funds.