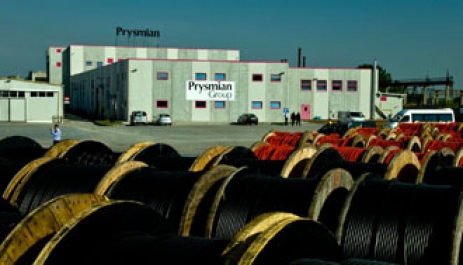 Source: http://prysmiangroup.com
Italy based Prysmian Group announced that it will invest 30 million euro in expanding the local business by developing two new optical cable and high voltage cable facilities, both in Slatina, the Olt County.
The company is already operating an optical cable production line in the same location, the new investments representing the next step in the development plan launched in 2013 with an initial investment of 20 million euro.
"We have completed our first investment started in 2013 well ahead of schedule and reached our goal of doubling production capacity",stated Francesco Fanciulli CEO Prysmian Central Europe during a press conference, adding that "Now we are ready to move further also thanks to the support ensured by the Romanian Government and the local Slatina institutions. For sure here we have found ideal conditions to invest and develop local technical skills and know-how".
The high voltage cable facility will be the first one to become operational, as completion of the project and beginning of production is scheduled for July 2015. It will deliver high voltage cables for underground power transmission lines up to 150 kV serving both the domestic and the export markets.
Prysmian will also double the current production capacity of optical cables by 2017 with the new production line which "will be able to produce full range of new generation Optical Fibre cables to support the most advanced applications and usages from public and private, national and international operators", according to a press release.
The extended optical cable production line is expected to be ready in 2017, the Italian group planning to further increase its capacity by 2020 when the plant will have reached three times the volume of current deliveries – from around 2.5 million km of optical cables to some 8 million km per year, and about 300 permanent employees.
Prysmian Group is world leader in the energy and telecoms cables and systems industry employing circa 19,000 people in its 91 plants across 50 countries worldwide. In 2013, the group reported sales of 7 billion euro.
On February 3, 2015, the company signed a Memorandum of Understanding for a submarine connection between Romania and Turkey with Transelectrica, Unicredit Bank and the law firm Tonucci & Partners in view of carrying out studies and analyzes on the potential development of such connection between Romania and Turkey.