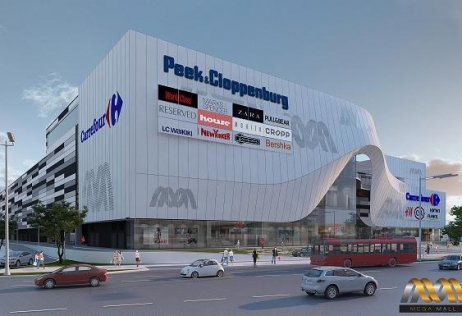 Mega Mall, the largest project developed by New Europe Property Investments (NEPI) in Romania following investment of 165 million euro, will be inaugurated on April 23, announced the South African investment fund.
Bucharest's newest shopping mall located on the former "Electroaparataj" industrial platform, near the National Stadium, has a gross leasable area of 72,000 sqm which has been almost fully occupied.
Mega Mall will accommodate more than 200 retailers among which Bershka, C&A, H&M, Kotton Mango, Marks & Spencer, New Yorker, Orsay, Tommy Hilfiger or Zara.
The shopping mall is designed with an entertainment area encompassing a Cinema City multiplex, a casino, a World Class fitness center, a children's playground, as well as a 10,000 sqm food court. Mega Mall will have a parking lot comprising 3,000 spaces, of which 1,000 on the roof of the building.
NEPI is one of the most dynamic real estate developers in the Romanian market where has a portfolio including a wide range of properties with a GLA of 627,000 sqm, valued at over 1 billion euro. Mega Mall (Bucharest), Shopping City Targu Jiu and Vulcan Value Centre are the latest development projects in the retail real estate sector from NEPI's portfolio, which was expanded in the last quarter of 2014 with the acquisition of Promenada Mall in Bucharest.