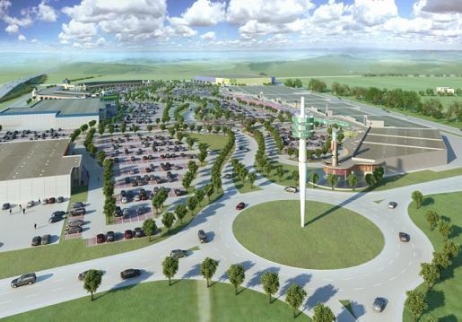 Source: www.liebrecht-wood.com
Belgian group Liebrecht & wooD will expand its business in Romania with a new retail project – Cernica Park, an investment of about 110 million euro, to be launched next year.
The retail destination will be developed outside Bucharest, in the Cernica area, on a 34ha site, part of a 60ha plot owned by the developer and combines a mix of retail functions, including a Fashion House Outlet Centre, a hypermarket, a traditional shopping gallery, DIY and furniture stores, as well as a sporting goods store, states a press release.
Cernica Park will offer a total of 88,000 sqm of retail space extendable to 100,000 sqm with a parking lot of over 3,500 parking places.
In February 2015, Liebrecht & wooD inaugurated a 4 Km access road to ensure connection of the retail space with the A2 highway, the project fully financed by the group being developed in cooperation with the local and regulatory authorities.
Established in 1991 in Belgium, the real estate developer has been focused on the Polish, Romanian and Russian commercial real estate markets, where it has developed office, retail and warehouse projects with a total area of almost half a million square meters.
Liebrecht & wooD has been operating in Romania since 2001 where it has invested 200 million euro so far in projects such as Victoria Park, Militari Shopping Center, subsequently sold, West Park, and Fashion House Outlet Centre Bucharest.