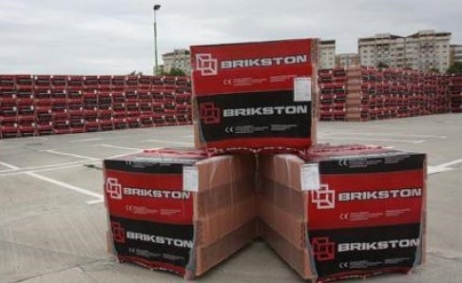 Wienerberger has reached an agreement with ADM Capital to acquire 98.3% of the brick maker Brikston Construction Solutions SA (Brikston). By planning this acquisition, Wienerberger takes another step forward and extends its activity in Romania on the brick segment.
Established in 1967 as a state entity and privatized in 1994, Brikston is a leading brick producer in Romania. It has a production facility in Iasi, northeast of Romania, with a total capacity of about 200 million FN (=regular brick format).
The product portfolio includes more than 40 different formats of ceramic blocks for exterior and interior wall masonry, as well as products for special garden applications and outside the house. Headquartered in Iasi, with more than 200 employees, the company generated revenue of approximately € 16 million in 2016, with its large distribution network targeting most of Romania as well as exports to Republic of Moldova and Ukraine.
"The intention to acquire Brikston is an excellent opportunity to expand our business at local level, especially given that Brikston is active in a region of the country where we were not yet present with a production unit. Brikston has a wide range of products, a strong brand and a modern organizational culture. The company can be quickly integrated into the existing factory network and complements very well the geographical presence in Romania as well as sustaining our activity at the local level." said Heim Scheuch, CEO of Wienerberger AG.
Wienerberger has been present in Romania since 1998 and is one of the leading manufacturers of building materials in the country. Romania is one of its largest markets in Eastern Europe, with an increase in residential construction and potential for the future.
In addition to autoclaved cellular concrete products (BCA), ceramic blocks are one of the well-known building materials, which makes Romania an interesting and important market for Wienerberger.
Currently, Wienerberger operates with four production units and has almost 300 employees in Romania. The planned acquisition is financed from the Wienerberger funds allocated to portfolio upgrading and optimization and is fully aligned with the company's investment criteria. This would create immediate revenue, according to the company's representatives.
In July 2014 ADM Capital, a leading international private equity fund with 20 years of experience in emerging markets, acquired a 98% stake in Brikston Construction Solutions SA (Brikston) and has improved operating profit by more than 60% during its three years of ownership. Now the equity fund has agreed to sell its full shareholding to Wienerberger AG of Austria.
ADM Capital invested in Brikston through its flagship CEECAT Recovery Fund launched in 2011. This represents another in a series of recent successful exits for the CEECAT Recovery Fund, helping pave the way for the team to launch its follow-on CCL CEECAT Fund II in early 2018.
Anthony Stalker, Partner of ADM Capital, commented that "this transaction marks a milestone in the growth of ADM Capital's European business showing our proven ability to execute sound investments, achieve strong valuation growth and realise exits in the Balkan region leaving behind a stronger and healthier business after our investment. We are particularly pleased at the prospect of Wienerberger's acquisition taking on the baton of further growth for Brikston's management and staff as it continues its success in the Romanian market."
The transaction is awaiting completion after approval by the competent authorities. Until approval is received, the two companies will continue to operate separately. The parties have agreed not to disclose information about the purchase price.