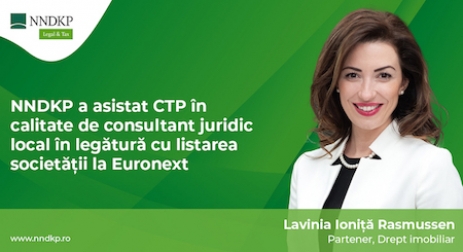 Nestor Nestor Diculescu Kingston Petersen (NNDKP) was part of the international team of lawyers that provided CTP assistance in connection with the initial public offering for listing the company on the Euronext exchange in Amsterdam. NNDKP acted as a local legal consultant on the aspects of Romanian law related to the project.
"We are glad to have had the opportunity to provide CTP assistance in this exceptional project for the company. This transaction contributes to strengthening CTP's position in the logistics market in Central and Eastern Europe. The launch of the IPO marks the entry of CTP into a new stage of development and emphasizes the importance of the logistics sector, whose potential has been reconfirmed by major institutional investors attracted by this project, "said Lavinia Ionita-Rasmussen, Partner at NNDKP.
The CTP Group is the largest developer and long-term administrator of premium industrial and logistics parks in Romania and Central and Eastern Europe. CTP sold 61 million new shares under the IPO, representing 15.4% of the total number of shares of the company, generating revenues of 854.2 million euros (excluding over-allotment options). ). The market value of CTP thus reached EUR 5.6 billion. The proceeds will be used to develop new projects, selectively purchase property and repay debts.