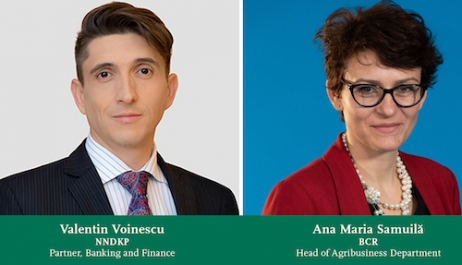 NNDKP successfully assisted a syndicate of banks - comprising Banca Comercială Română S.A. (member of Erste Group), acting as Bookrunner, Mandated Lead Arranger, Documentation Agent and Facility and Security Agent, CEC Bank as Mandated Lead Arranger, and participating banks EximBank SA, Intesa Sanpaolo Romania SA and OTP Bank Romania SA – in granting an EUR 90 million loan facility to the Carmistin Group, one of the main players on the agricultural and zootehnical market in Romania.
This is the most important local syndicated loan transaction carried out in the agribusiness sector in 2020 and one of the most complex transactions that has ever been carried out in this field.
This complex facility will be used by over 20 companies of Carmistin Group to financetheir investment projects, refinancing their existing bilateral financial debt, as well as for working capital needs.
"In the current economic context, it has become more important than ever to be able to support the local companies that carry out their activity in strategic fields, such as agriculture. At the core of this transaction is a cooperation based on trust and it constitutes the ground of a long-term partnership. For us it is important to be able to identify solutions that may support the development strategy of Carmistin Group. It is a business based on innovation, that is in compliance with the European standards for sustainable agriculture and ensures the highest standards of safety and food quality. We are honoured to have had the chance of this collaboration and very pleased to have worked in close cooperation with the NNDKP team", stated Ana Maria Samuila, Head of Agribusiness Department, BCR.
The NNDKP team involved in this transaction was coordinated by Valentin Voinescu, Partner in the Banking and Financing practice area, and included Alexandru Ciambur and Cătălina Dan, assosciates in the same practice area.