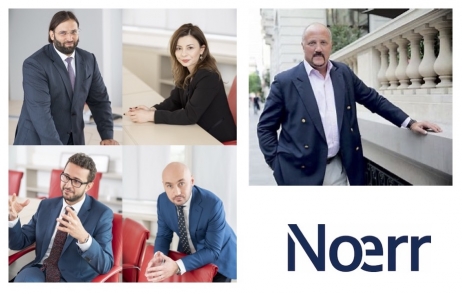 Source: Noerr
On International Anti-Corruption Day (9 December), Noerr dedicated the Romanian business environment a unique interactive conference dealing with fraud in different business sectors, having as keynote speaker the most significant financial whistle-blower in history – Bradley C. Birkenfeld.
Noerr organized this year's edition of the Annual Fraud Conference in partnership with Corporate Intelligence Agency, a top Romanian company specialized in business/competitive intelligence and enjoyed a great number of participants across different industries. Noerr's professionals together with the representatives of the Corporate Intelligence Agency and Mr Bradley C. Birkenfeld, the UBS Whistleblower and author of Lucifer's Banker, presented CEOs, CFOs, compliance officers and internal auditors with the current trends and challenges companies face when dealing with fraud, having as main topics: common myths about fraud, fraud schemes in various business sectors, the conflict of interest, fraud prevention & deterrence mechanisms, as well as guidelines to a proper reaction to fraud.
"We were delighted to have Bradley C. Birkenfeld join us this year, who has made a name for himself by revealing how UBS, the world's largest bank, helped wealthy Americans commit frauds amounting to billions of dollars, which triggered monumental changes in banking laws, the Federal Tax Code and international tax treaties and allowed the US Treasury to recover $ 25 billion as taxes, fines and penalties.", says Alexandru Ene, Partner at Noerr and Head of Litigation & Compliance.
"I am happy to be here not only to discuss my particular case about whistle-blowing but to see how that can help Romania develop and become a much stronger country from a public policy stand point." said Bradley Birkenfeld and went on: "It is important to realize that whistle-blowing is an extension of the law enforcement, whereas a whistle-blower will assist in regard to enhance the enforcement practices and enforcement policies of the laws in that country. Whistle-blowing is there to protect society, which at its turn has to compensate and protect the whistle-blower from being harassed or intimidated to come forward. Whistle-blowers are the essence of eradicating fraud and corruption in society. So when you witness a fraud, make sure not to be covered up or buried when you come forward, make sure that people will listen to your complaints. You have to be prepared and have documentation, a timeline, names dates, places, so you convey that information easily to a law enforcement group/person in order to get that investigated properly. Also make sure to get good legal advice and use also other methods and avenues which could support your cause: non-profits that are supportive of this, good media outlets that are supportive of this, family and friends and of course the internal whistle-blowing policies of the institution you work at, whether it's corporate or government.
It is crucial to understand why whistle-blowing is so important and why whistle-blowing laws will have greater effect on society. Not only people will feel that their corporation and governments are cleaner and abiding by the laws, but there will be a better work environment to be a part of, the clients will feel more confident, the shareholders will feel good and society in general will feel better. Furthermore, whistle-blowing gets money back to the government which can be redistributed and allocated to certain projects that help all Romanians: building new schools, roads, hospitals, etc. You cannot just not see the positive ramifications of whistle-blowing.
Further to this, it doesn't matter the size of the case but the fact that you are exposing the fraud, the waste and the corruption. Once that's being done once it will then create a snowball/domino effect for other corporations within that same industry within the same country. We live in a civilized society educating our children to do the right thing. So why don't we, adults, start doing ourselves the right thing and send the same good message we are sending to our children. A push from all sides, public and private sectors, media, lawyers, non-profits is needed; it has to be a full effort by everyone and you have to work together to make sure this law does pass in your country. If we don't do this we perpetuate fraud and corruption.
So if you witness something that is illegal you have to report it! Why? Because silence is complicity and your silence is actually perpetuating the crime."
When asked what advice would he have for the Romanian companies with regard to the proper reaction to fraud, Mr Birkenfeld went forward to say:
"They should contact me or other whistle-blowers and lawyers to give them a presentation and talk about the importance of whistle-blowing. This should be seen as an investment in their company, it helps the insurance company, their clients, colleagues and shareholders are happier, if they do it the right way. If you want to be clean and correct make sure you put a good whistle-blowing policy in place, train your employees on it, put it in writing and communicate it effectively – so they can understand the value added approach to an organization that does this right and who actually looks better in the eyes of everyone: clients, colleagues, regulators, law-enforcers, simply because you make sure that nobody does nothing illegal.
So I encourage bringing this type of conferences together, structure them properly with some experts in the field (legal consultants, compliance officers, CFOs, whistle-blowers) and start educating people in this respect. People can learn from my case and I hope it gives them motivation to do the right thing, to come forward under the right laws."
The conference went on to show why the One Stop Shop approach to any fraud suspicion is highly recommended and why bringing together a team of highly trained professionals, covering all steps of a proper fraud investigation (from legal advisors, financial and management consultants, auditors to investigators and renowned whistle-blowers) is the best decision. Noerr's team of experts in fraud investigations is coordinated by Alexandru Ene, Partner and Head of Litigation & Compliance, and includes Oana Piticas, White Collar Crime Practice Coordinator, Iulian Sorescu, Partner and Head of Financial Department, and Andrei Copil, Management Consultant. Together with Gabriel Zgunea (CEO) and Dan Rusu (Senior Partner) of Corporate Intelligence Agency they have taken turns and discussed the topic interactively, based on real-life experiences, broad expertise and learned lessons.
"Companies tend to treat minor frauds very lightly, but this should not be the case: minor frauds that remain undetected rapidly transform into huge financial losses and serious reputational damages. From a compliance perspective, companies need to remember that they have an obligation to react when faced with fraud suspicions. Ignoring the issue is never a good idea.", summarizes Alexandru Ene on one of the common myths regarding fraud.
"The conflict of interest is something most companies have to take into consideration - this is a very popular fraud scheme, seen in every business sector, and very hard to detect in most cases.", says Oana Piticas and goes on expanding on prevention & deterrence mechanisms: "Prevention mechanisms are your first line of defence, but only if you make the best out of them and implement them correctly. Consider periodic trainings and additional background checks if you want to really improve their outcome."
Iulian Sorescu, Noerr's head of financial department, explains "An audit can be executed today also with digital intelligence. We have faced this challenge together with our clients and accomplished a win-win situation when reviewing business models, financial statements, accounting and fiscal compliance. During complex fraud audits, either executed traditionally or digitally, the most important business awareness towards risk areas, red flag signals can be triggered by focussing on the identification of financial & tax implications with potential risks. Immediate solution finding will ensure a good match between financial indicators, tax issues and operational business "reality"". Andrei Copil, Noerr's expert in management consulting, adds: "Conducting a benchmark analysis is essential and mandatory to identify key potential risk areas in any business. A benchmark comparison is one of the best practices, which can help a company make sure its business operations are optimum. Additionally, a deep dive into the business operations & process, delivery of goods and services etc. will offer a control mechanisms for fraud prevention. Reviewing the main sources for potential fraud (such as acquisition and commercial processes) and analysing the findings will support the proper implementation and/or update of key relevant policies in order to reflect and ensure best practices."
Gabriel Zgunea, CEO of Corporate Intelligence Agency, comes to the conclusion that "2020 is a great year to raise awareness on this very sensitive topic. Indeed, when trying to tackle fraud related issues, companies are recommended to consider a specialized team of professionals, including lawyers, financial specialists, business consultants and private investigators. Intelligence services should be seriously considered, since they can add considerable value to any private investigation." Dan Rusu, Senior Partner at Corporate Intelligence Agency, continues: "This synergy is ground-breaking in the Romanian business environment, whereas in the West these services are approached regularly / frequently through the two components: prevention, ante-factum, finding-out part (background-check, enhanced due-diligence, etc.), but also post-factum, by conducting investigations when the client points out the existence of indications or suspicions of fraud within the company; it is time for the Romanian business environment to be proactive and to give up the fear of resorting to corporate investigations, whether they are for finding out or for documenting fraud committed by internal or external perpetrators. Managers / Corporations must be aware that business & competitive intelligence services are provided in compliance with the legal framework, that they are a real and necessary support for the local business environment, that they do not represent just a discharge of responsibility before shareholders or state authorities and that they offer a real support in fulfilling the business plan objectives."
"Yes, fraud does not shy away from any business sector, but there are great tools you can use in order to protect your company and prevent fraud cases as much as possible. And even if you cannot prevent all fraud cases, there are specific services one can count on in order to regain compliance and put fraud to an end." concludes Oana Piticas.
Hoping to have raised awareness and shed some light on this topic, we look forward to meeting you at our next edition in 2021!