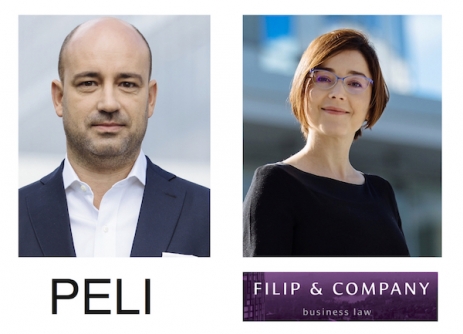 Two of the founding partners of PeliFilip, Francis Peli and Carmen Peli announced the separation from the firm and the establishment of PELI law firm.
Cristina Filip will continue to run the firm under the name Filip & Company.
In the new format, Francis Peli will assume the position of Managing Partner, a role he held during 2008-2015 within PeliFilip, when the company started as a startup, crossed the economic crisis and became for the first time "law firm of the Year "(Chambers & Partners 2015).
The PELI team will include Oana Badărau, Partner and Head of Real Estate PELI - who played the same role in PeliFilip, and Mihnea Galgoţiu-Sararu, Partner and Head of Dispute Resolution PELI, who previously was involved in PeliFilip's litigation.
"We are privileged that the name Peli has earned a solid reputation in business law. We have had great opportunities and we have had great people with us. We had the inspiration to make the right decisions at the right times. This is such a moment," says Francis Peli.
"The business environment is undergoing radical change, and our team is looking to offer customers tailored solutions to new realities. We thank those who have given us confidence over time - we will treat it with all the necessary dedication "- adds Carmen Peli.
With extensive experience in the most important financial-banking, healthcare and telecom transactions, Carmen Peli will coordinate M & A / corporate practice and supervise finance, banking and commercial areas. Recognized among its clients for innovative legal solutions, Carmen Peli remains a senior consultant for top corporations and investment fund executives.
With a 12 years experience in real estate transactions, Oana Bădărău will lead the practice that brings together one of the largest and most experienced real estate lawyers in Romania.
Mihnea Galgoţiu-Sararu, who has 10 years of experience in business law and has coordinated complex domestic and international litigation and arbitrage projects in areas such as telecom and technology, energy, finance, infrastructure, PPP, real estate, transport or sports, will leads the Dispute Resolution Department of the PELI.