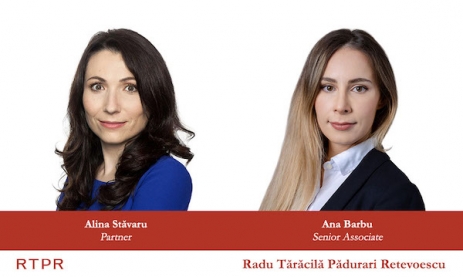 RTPR has assisted the private equity fund Innova Capital in relation to the acquisition of a majority stake in NETOPIA Group, one of the best known payment service providers (PSP) in Romania. The group also includes services provided by mobilPay Wallet, web2sms and Kartela. The transaction is subject to the Competition Council approval and the fulfilment of the conditions precedent agreed by the parties.
The project team was coordinated by Alina Stavaru (Partner), who was supported by Ana Maria Barbu (Senior Associate) for the transaction documents,and further included Cezara Urzica, Andrei Tosa (Managing Associates), Flavia Mincu, FilipMarinau, Maria Luca and Irina Marinescu (Junior Associates) for the due diligence process. Roxana Ionescu (Partner) and Serban Halmagean (Associate) will advise on the merger control notification of the transaction to the Competition Council.
"I am happy that we had the chance to work again with the Innova Capital team for a new important project. In the autumn of 2020, we were announcing the signing of the acquisition of PayPoint Services SRL and Payzone SA by Innova, one of the firsts deals that predicted the unfreezing of the M&A market in the context of the pandemic. Now we have made an excellent team once again for a new investment in a successful business. Thank you for your trust and we are ready for the next challenges", said Alina Stavaru, Partner of RTPR.