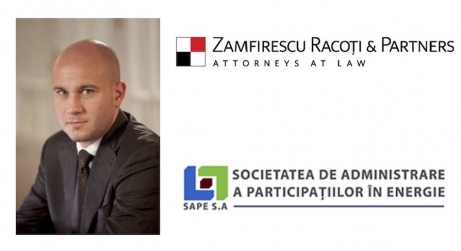 SCA Zamfirescu Racoţi & Partners (ZRP), as lawyers and TPA Romania, as financial experts, both selected following a procurement procedure to ensure the representation of SAPE ( Societatea de Administrare a Participațiilor în Energie), obtained a final arbitration decision at the Paris International Chamber of Commerce (ICC), which granted in part SAPE's action against companies Enel Investment Holding BV and Enel S.p.A. (Enel), the latter being obliged to pay the sum of 401,209,541.29 Euro.
The dispute is in connection with the privatization contract of Electrica Muntenia Sud aimed essentially following issues: exercise of the put option (put options) relating to a stake of 13.57% held by SAPE in former Electrica Muntenia Sud, the legal mechanism by which the shares may be transferred by Enel and the pricing related to this stake, according to a formula set in the privatization contract.
The team of lawyers, led by Cosmin Vasile, was composed of Alina Tugearu, associate lawyer, Cosmin Cojocaru, Associate Coordinator and Violeta Saranciuc, Senior Associate. The team was composed of financial experts Cristina Petrescu, Audit & Advisory Partner (team coordinator) and Bogdan Acatrinei, Senior Manager.
"The arbitral award is spectacular for the public in terms of the large amount granted. As far as we are concerned, this arbitration, much more complex than in appearance, has raised many issues concerning civil law, privatization and, especially, energy, and covered various elements specific spot regulated market. Our satisfaction is given by an overwhelming majority in accepting the positions and interpretations of the Romanian party supported and developed in the dispute, "said Cosmin Vasile from Racoţi Zamfirescu & Partners.