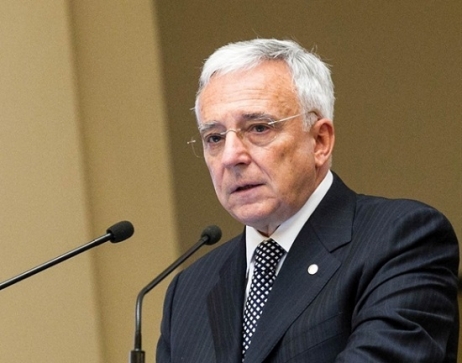 Source: www.bnr.ro
With the current board of BNR ending the ongoing mandate on October 10, 2014, a new Board of Directors of Romania's Central Bank, BNR, was yesterday voted by the Parliament, upon the joint finance-budget-banking committees approving the nominated candidates.
Mugur Isarescu who has been the BNR's governor for the past 24 years is maintaining his position for another five years. As are Florin Georgescu who was re-confirmed as first deputy governor and Bogdan Olteanu, deputy governor.
Yet, surprises arose as regards the other positions in the board, the other deputy governor in the present executive structure, Cristian Popa, receiving a negative notice subsequent to the hearings. His position will be taken by Liviu Voinea, the Minister Delegate for Budget, whose nomination was publicly supported by PSD as Victor Ponta yesterday announced - "For the BNR's board we are supporting Florin Georgescu as first deputy governor, Liviu Voinea – deputy governor and Daniel Daianu and Gheorghe Gherghina as board members", said yesterday the Prime Minister.
Apart from Voinea, the new entries completing the future board of BNR are Daniel Daianu (the resigning first vice president of the Financial Supervisory Authority) and Gheorghe Gherghina (State Secretary within the Ministry of Finance), while Dinu Marin, Agnes Nagy, Virgil Stoenescu will continue as board members after the expiration of their current mandates.
The BNR's board comprises nine members appointed for a five-year period under the governor's leadership. Four of them – the governor and the deputy governors – are senior executives, while the other five members ore not on the payroll of the BNR.