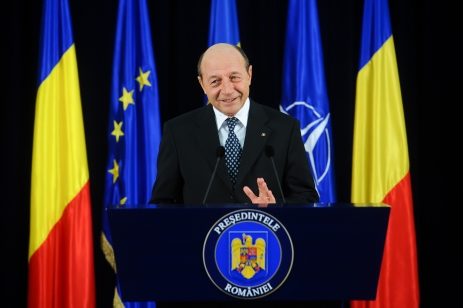 President Traian Basescu yesterday announced during a talk-show on Realitatea TV that Victor Ponta had served within 1997 and 2001 as undercover agent of the Foreign Intelligence Service (SIE). Basescu accused the Prime Minister of infringing the old Constitution, as his position then, of prosecutor, was not compatible with any other functions.
"Victor Ponta has to admit that he was an undercover officer of SIE", said Basescu who further added that the four years of serving the intelligence service propelled him forward from the Prosecutor Office of the District Court straight to the Prosecutor General's Office.
"There is no 'bomb', that's the reality and I am ready to prove it", asserted Basescu. Ponta has totally rejected his allegation, saying that Basescu is lying and that his statement is false.
"As for me, I can tell you very clearly that after I graduated the Law School in 1995 and to this day, 20 years have passed, I have complied with the rule of law, I have served my country as magistrate, deputy, minister and I will do the same as Romania's president", said Ponta on Tuesday.
The President had previously told the media that one of the candidates in the presidential elections was an undercover agent of an intelligence service and that he would disclose the name of the person concerned. Subsequent to divulging Ponta's alleged former position, Traian Basescu showed a Government Ordinance initiated by Teodor Melescanu (SIE's former leader who is also running for presidency) and signed by Ponta by which the identity of former officers of the Intelligence Service benefit from protection, likewise those in office.
Basescu also explained that he asked Melescanu whether any of the members of the Government are former undercover agents of SIE, yet no concrete answer was received as Melescanu mentioned the said ordinance which provides protection to ex-officers, too.