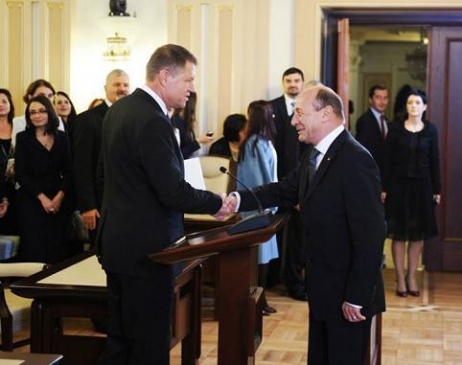 The Romanian Constitutional Court has today validated the results of the Romanian presidential run-off and the election of Klaus Iohannis as the new president. The Court has announced the validation of his election during a ceremony also attended by the President in office, Traian Basescu.
"Now, after 25 years since the Romanian Revolution, I see a stage ending. By their vote, Romanians have made it very clear: stop and start over (…) I assure Romanian people that we can do it, we can build a strong and prosperous Romania. It cannot be done over the night. We will do it over time, step by step", said Klaus Iohannis at the ceremony.
President Basescu congratulated him, saying that he is glad to see that Romanians have right-wing or center-right political views: "I would not have wanted to end my term and see that all state institutions are under left-wing domination. The score that you recorded – your full merit for which I thank you – in the election shows that my legacy is a country with right-wing or center-right views".
Klaus Iohannis will officially start his five-year term on December 22, 2014, after taking the oath before the Parliament at the investiture ceremony scheduled a day before.