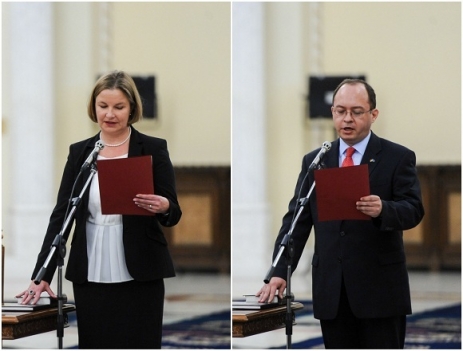 Csilla Hegedus and Bogdan Aurescu are the new ministers of the Ponta Cabinet. Member of UDMR, Hegedus has replaced Kelemen Hunor as Minister of Culture and Deputy Prime Minister, whilst Aurescu was appointed as Minister of Foreign Affairs after Teodor Melescanu resigned last week.
They took oath before President Traian Basescu during the investiture ceremony held on November 24 at the Cotroceni Palace, also attended by the Prime Minister Victor Ponta, the Minister of Justice, Robert Cazanciuc and the president of the Chamber of Deputies, Valeriu Zgonea.
Bogdan Aurescu's nomination was announced by Ponta on the same day, annulling the initial proposal – Mihai Motoc, to head the Ministry of Foreign Affairs. Aurescu is a Romanian Diplomat, representative of our country within Hague's International Court of Justice. He also served as State Secretary and Deputy State Secretary within the Ministry of Foreign Affairs. Bogdan Aurescu graduated the Law School (1996) and the Faculty of History (1998) within the University of Bucharest, where teaches various law courses.
Csilla Hegedus, the deputy general secretary and vice president of UDMR's Women Organization also occupies the deputy general secretary position within the Department for Culture of the Union. She has a degree in economics at the Babes-Bolyai University in Cluj Napoca (1997) and graduated from the University of Pecs, Hungary, in 2009 where studied human resources. Formerly, she led the Transilvania Trust Foundation and served as personal advisor to the Minister of Culture.