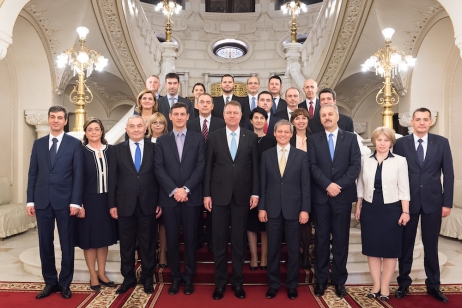 Source: www.gov.ro
Dacian Ciolos, the newly designated Romanian Premier, announced, on the 15th of November 2015, that he has the list comprised of 21 names of those who would be the future leaders of the new Governmental Cabinet.
In his speech, Ciolos stated that he had looked for people who were competent in their fields and had sufficient experience, as well as vision and dedication. A novel element in the political reform process was that a third of the people chosen as heads of the Ministries were women. This makes the current process even more popular, as it evidently underlines the need for an equal society, where differences between men and women in the workforce are not as blatant.
Some of the proposed Ministers are: Vasile Dancu, for the office of vice premier, Minister of Regional Developement and Public Administration; Anca Paliu Dragu, for Minister of Finance; Adrian Curaj, for the office of Minister of Education; Costin Grigore Borc, proposed for vice premier and Minister of Economy, Commerce and Tourism; Dan Costescu, for the Ministry of Transports; Lazar Comanescu, for the Ministry of Foreign Affairs; Victor Grigorescu, for the Ministry of Energy.
Most of the the ones proposed for these particular functions have a background in working for international entities and are seen by many as the right choices with which to start the political reform in Romania.
As with any new beginning, however, the process is bound to be one that stirs up controversies and misunderstandings along the way.
This was the case with the new proposed Minister of Health, Andrei Baciu, who was crossed off the list of candidates because of several pictures which surfaced showing him during his lingerie modeling days.
Obviously, all those involved are looking to keep the number of scandals to a minimum, as the recent protests and political instability have put Romania in a very vulnerable position, one which must quickly be made right.