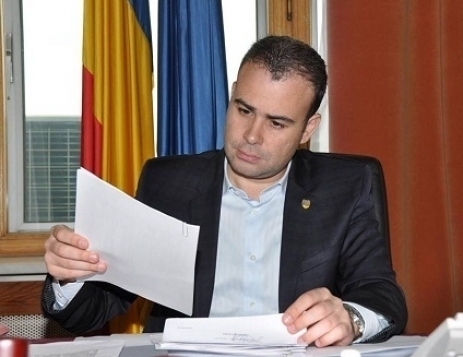 Romanian Minister of Finance, Darius Valcov, has resigned after the National Anticorruption Directorate (DNA) placed him under criminal prosecution for a charge of influence peddling related to the period during which he had served as mayor of Slatina city.
He submitted his notice to quit to Prime Minister Victor Ponta who acknowledged it and accepted it, albeit he asked Valcov to present himself the new Tax Code and the Fiscal Procedure Code before the Parliament.
The resignation announcement was made on March 15, 2015, after President Klaus Iohannis had previously requested the Head of the Exceutive to initiate proceedings to revoke the Minister of Finance since the DNA prosecutors began prosecuting him, circumstances in which the activity and credibility of the Government is affected, according to a release of the Presidency of Romania.
Valcov, who has been member of PSD Olt since 2012, was appointed as Minister of Finance in December 2014, replacing Ioana Maria Petrescu, following a four-month term as Minister Delegate for Budget.
Before becoming an MP, he had been one of the leaders of PDL in the region, as a democrat-liberal winning two successive mandates as mayor of Slatina. In parallel, he has built a career in economics, between 2000 and 2004 working as general manager of the Slatina branch of the Romanian Popular Bank for Development. Subsequently, he started working as Financial Director of a company also located in Slatina.