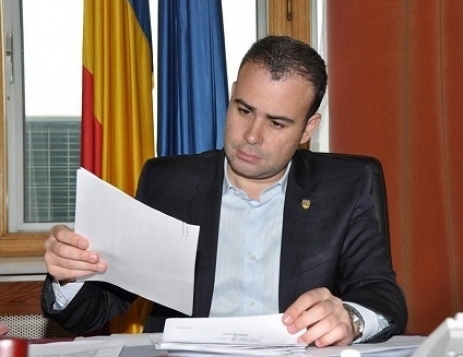 The social-democrat designated by Victor Ponta to replace Liviu Voinea as minister delegate for budget took oath before president Traian Basescu during the investiture ceremony held at the Cotroceni Palace, also attended by the prime minister and the president of the Chamber of Deputies, Valeriu Zgonea.
Basescu yesterday signed the decrees both for investing Dragos Valcov and for Voinea's resignation and the ceremony was initially scheduled for August 27, yet, the President decided to postpone it, as Ponta was not able to attend it eventually.
Darius Valcov has been member of PSD Olt since 2012 and as a MP he is president of the commission for public administration and territorial organization within the Senate.
Previously, Valcov was one of the leaders of PDL in the region, as a democrat-liberal winning two successive mandates as mayor of Slatina. In parallel, he has built a career in economics, between 2000 and 2004 working as general manager of the Slatina branch of the Romanian Popular Bank for Development. Subsequently, he started working as Financial Director of a company also located in Slatina.
The prime minister initially named Claudiu Manda for this function, but his nomination was rejected by Traian Basescu.